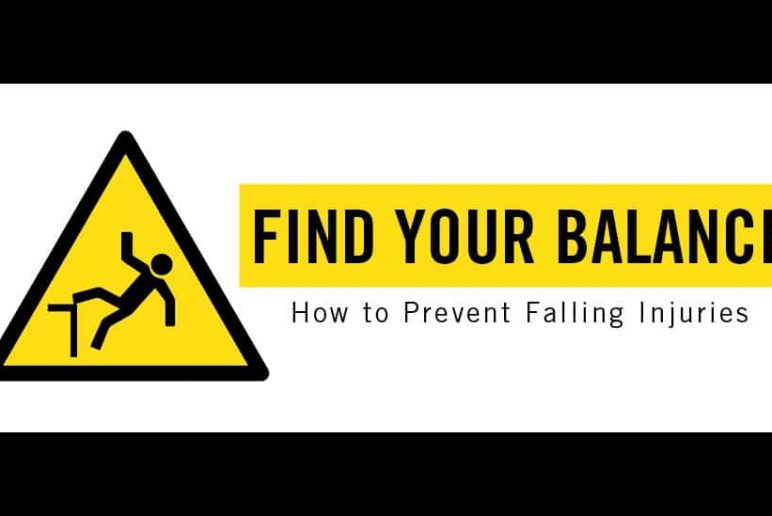 Find Your Balance: How to Prevent Falling Injuries
July 09, 2015
As a physical therapist, I see the devastation of falls on a regular basis. Did you know that 1/3 of people over age 65 experience a fall every year? In fact falls are the leading cause of injury death in people over 65 years old according to the CDC. I have experienced this loss with a loved one when my grandmother fell in a nursing home and broke her leg. She never got out of the hospital bed after that fall and passed within a month of the incident. I am certain that many people reading this post know someone who has fallen and been seriously injured or died as a result – be it a head injury or a fractured hip, etc. In this post, I will discuss some of the risks associated with falls
The BEST WAY to treat injuries resulting from falls is to PREVENT FALLS in the first place. Balance is a critical component to preventing falls.
How do you know if you or someone you love has a balance problem?
• Have you fallen in the past?
• Do you have difficulty going up or down stairs?
• Do you have difficulty getting in or out of a car?
• Do your legs feel tired or weak?
• Have you lost your balance getting up from sitting in a chair?
• Do you lose your balance when you first wake up in the morning or getting up to use the restroom in the middle of the night?
• Do you have trouble walking in cluttered or busy hallways?
If you or a loved one can answer yes to any of these questions, then you have a balance problem and are at risk for falling.
What puts someone at risk for a fall?
Muscle weakness of the lower extremity
Dizziness and vertigo or other balance problems
Gait abnormalities
Blood pressure drops due to medicine or other factors
Reflexes become slower
Sensory problems
Vision impairments
Confusion
So what can be done about falls?
The following are general tips that will help reduce the risk of falls.
Exercise regularly
"Motion is lotion", the body is meant to move so let's move it
Focus: improving leg strength, improving balance
Review medications
Different physicians prescribe different medications
interactions can cause side effects such as dizziness
communicate with your physician if you have dizziness associated with your medications
Have eyes checked by eye doctor at least once a year
Update glasses to maximize vision
Vision has a gigantic role in balance!
If you have concerns about your balance, seek help from a physical therapist. Physical Therapists are the most qualified medical professionals to create balance and fall prevention programs. If you or a loved one are at risk for falls, have balance issues, unsteady gait, or lower extremity weakness, set a free assessment with us. We will be happy to provide an assessment and more specific tips on what you can do to reduce the risk of falls.
Want More Tips?
Sign up for a free assessment or contact us with any additional questions on injury prevention!
Reader Interactions