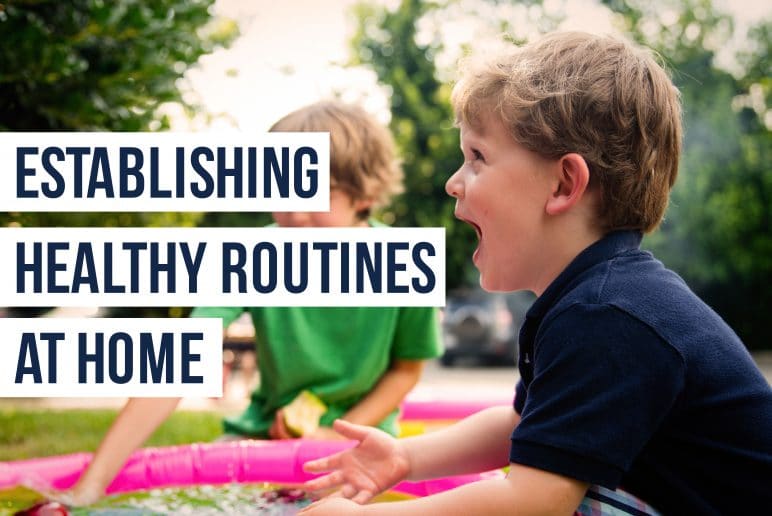 Establishing Healthy Routines at Home
March 23, 2020
Who would have thought that being required to stay at home for a week or two would stir up so much restless energy? Especially in those beloved children of ours! (Hah!)
Living under a "Shelter In Place" order does not only cause restless stress and anxiety in our mind, body, and spirit, it also has us scrambling for new & exciting ways to effectively manage our time at home, while trying to rid ourselves of this restless energy through activities that prove to be entertaining, beneficial, and FUN for the entire family!! Especially now with our children required to be home-schooled, the need for healthy, fun, and effective daily schedules and activities are more important than ever before.
Here are a few suggestions and ideas for you that are doctor recommended and parent approved and may help you and your family discover new and exciting strategies to help navigate your time while being at home.
#1: Your Daily Schedule
Outline and establish a daily schedule filled with routines that are aligned with your lifestyle.
Establish a Morning Routine
Before the Coronavirus (COVID-19) "Shelter-In-Place" order, this would include a consistent time of waking up and launching your morning routines that are similar to when you were going to school and/or work. For example, making your bed, eating a healthy breakfast, bathing, brushing your teeth, and getting dressed for the day. If there are a few routines you would like to add or modify to be more productive and time conscious in the future, now is a great time to implement those.
Organize Your Day
After you have completed your morning routines, organize a list of all that you want to accomplish for the day and designate specific start/stop times so you don't over commit yourself or allow your day to run and get away from you.
Maximize Your Focus
It has been suggested to break your daily schedule up into 30 / 45 / 60-minute intervals, so you can maximize your focus time for the task at hand, and then take a quick break to acknowledge your progress and reset your inspiration and motivation for your next time interval. This time structured discipline also minimizes the wandering around and losing concentration.
#2: Healthy Meals & Snacks
Having all of our favorite foods and snacks within arm's reach all day long will no doubt put our willpower and self-discipline to the test. Especially during times of stress and uncertainty, our bodies crave more comfort foods that are not always the healthiest for us. To combat the urge of eating unhealthy foods throughout the day, establish a healthy meal and snack plan that is ideal for your current fitness level and lifestyle.
Commit One Meal at a Time
Don't think in terms of "dieting", think in terms of eating one healthy meal or snack at a time, with the reward of eating and doing whatever you want for the next meal...However, when that next meal or snack approaches, commit yourself again to eating one healthy meal or snack at a time, with the reward of eating and doing whatever you want for the next meal... Repeat this mental practice and give yourself high praise for choosing to eat healthier - one healthy meal or snack at a time! Now is a great time to add or modify your daily diet routines to enhance your ability of living happier and healthily ever after!
#3: Exercise, Exercise, Exercise!
Even during the best of times, the importance of daily exercise is essential to building and maintaining a healthy mind, body, and spirit. Now that our normal day-to-day way of life has abruptly changed literally overnight, our need for physical exercise is even more important than ever to help us happily and healthily navigate these confusing and uncertain times.
Workout as a Family
Regardless of your current fitness level and/or physical injuries or limitations, it is never too late to begin an exercise program that is essential and beneficial to your life. One of the key factors to any successful exercise program is fun, so choose activities and exercises that you enjoy doing. Since we have limited access to many of the outdoor activities, try exercise routines and challenges that you can easily weave into your day and do with your family as a form of entertainment and fun.
One effective strategy to keep your family active and having fun is to choose a variety of exercises and take turns doing them or rotate through the various chosen exercises together. This will make for a fun-filled and challenging environment for you and your entire family, but allow each of you to workout at your own pace. The key is to get up off that couch and commit to some time intervals of exercise and fitness fun each day.
The Coury Family's Exercise Plan
Here is one idea from our family of 5. Set up a "5 STATION BOOT CAMP" that we rotate through. Everyone in the family picks an exercise.
3-minute Stations: (Count how many you do at each station and try to break your record the next time you do this work out.)
Push Ups
Lunges
Juggling soccer ball
Jump rope
Making layups on a basketball hoop
This is an easy 15-minute fun program followed by a family walk.
Please comment and share your exercise routine! We'd love to hear how you're keeping you and your family healthy and active during this season!
REQUEST A FREE CONSULTATION
Noticing some aches and pains while at home with the family? Fill out this form and we will contact you to schedule a consultation appointment when we reopen!
Reader Interactions