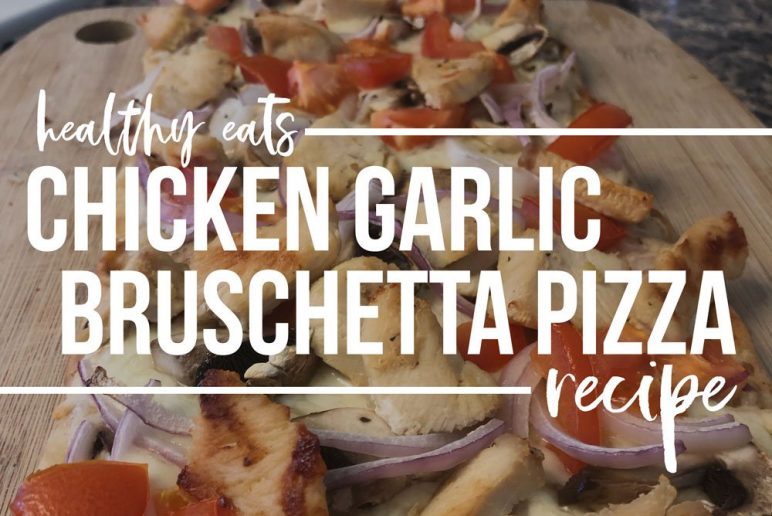 Kids in the Kitchen: Chicken Garlic Bruschetta Pizza Recipe
July 18, 2019
Growing up, I remember being one of the few of my friends who knew how to cook from a young age. It wasn't until I first moved away for college that I really began to appreciate this skill. It has allowed me to eat healthier, avoid dorm food, and know exactly what I am putting in my body. I've been able to experiment and recognize how eating out, compared to my usual home cooked meals affects my energy level, my strength and endurance during my workouts, and my overall mood.
I have my parents to thank for my ability to feel at ease in the kitchen because they let me help cook meals at a very young age. Ever since I can remember, I would help cook breakfast, lunch, and dinner with my parents. I remember learning how to knead bread with my mom, acquiring the skill of flipping a fried egg without breaking the yolk with my dad, and sharing the responsibility with my brother to choose a recipe out of our kid's cookbook to cook once a week.
One of my favorite things to make as a kid was pizza! I loved this meal because I could make my own just the way I liked—I quickly learned what ingredients went well together or completely clashed. Parents, I encourage you to provide your kids with a variety of ingredients to choose from so that they can have fun and get creative, while learning valuable cooking skills! For demonstration purposes, I am just going to provide directions for a chicken garlic bruschetta pizza.
Ingredients
1 small chicken breast
1 flatbread/or precooked pizza crust
½ cup alfredo sauce
1 Tsp. bruschetta seasoning (I use Costco's seasoning mix which includes: basil, oregano, onion, garlic & sea salt)
½ cup mozzarella cheese
3 thin slices of red onion
½ tomato
2 whole mushrooms
Salt and pepper to taste
Olive oil
NOTE: I am providing a quick recipe, when I have extra time, I love making homemade crust and alfredo sauce!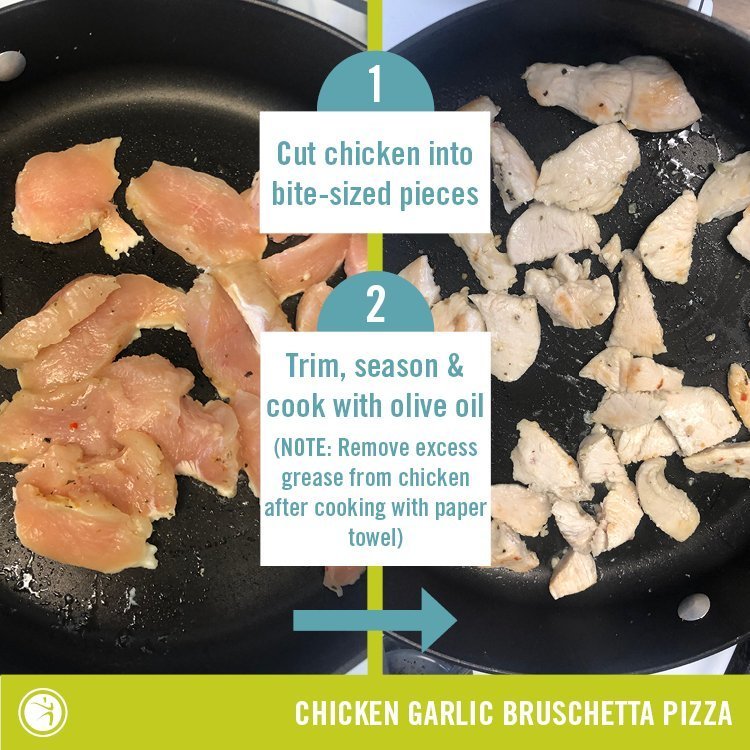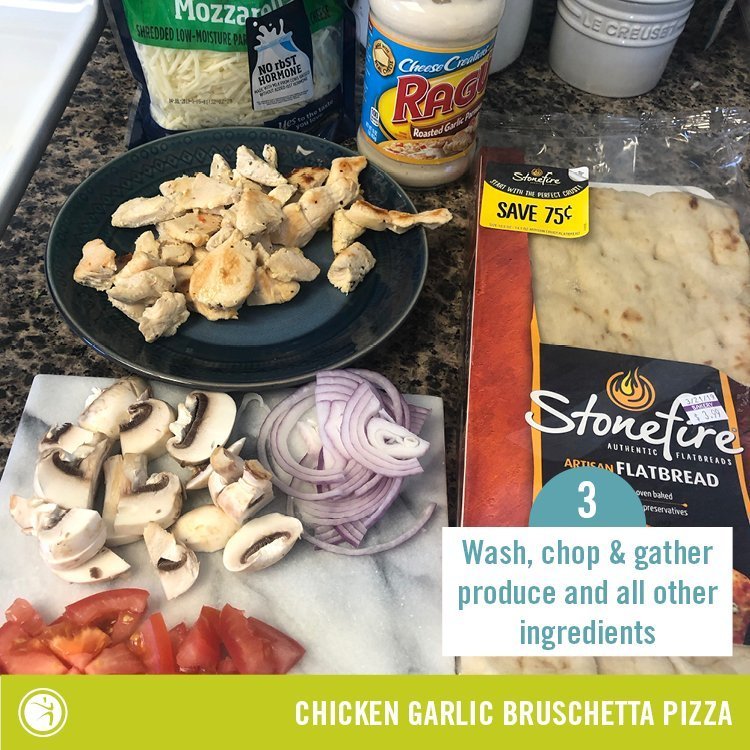 Directions:
Preheat oven to 400oF
Rinse chicken, and slice into small bite size pieces, trimming any excess fat off.

Drizzle olive oil in a medium pan on medium-high heat, season chicken with salt and pepper, and cook until no longer pink in the middle (5-6 minutes).
Set aside on paper towel to soak up excess grease.

Wash all produce, slice mushrooms, then half, chop tomatoes and cut onion slices in half and separate
Add toppings to flatbread/crust in the following order spreading evenly:

Alfredo sauce
Bruschetta seasoning
Cheese
Onion, mushrooms, tomatoes, chicken (and other toppings of your choice!

Place in oven (for crispier crust place on single piece of tinfoil/for softer crust place on baking sheet)
Cook 20 minutes
Let rest for 5 minutes, slice and serve!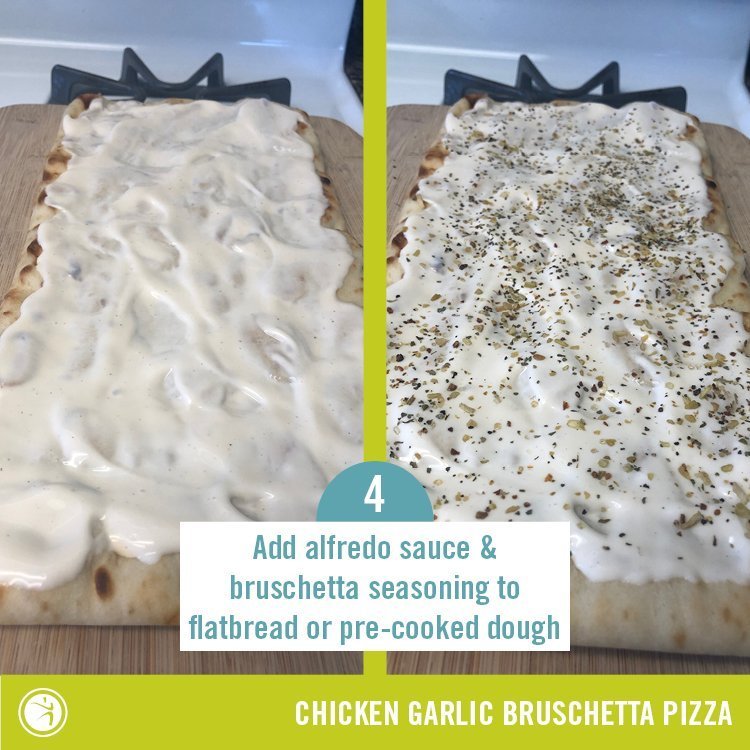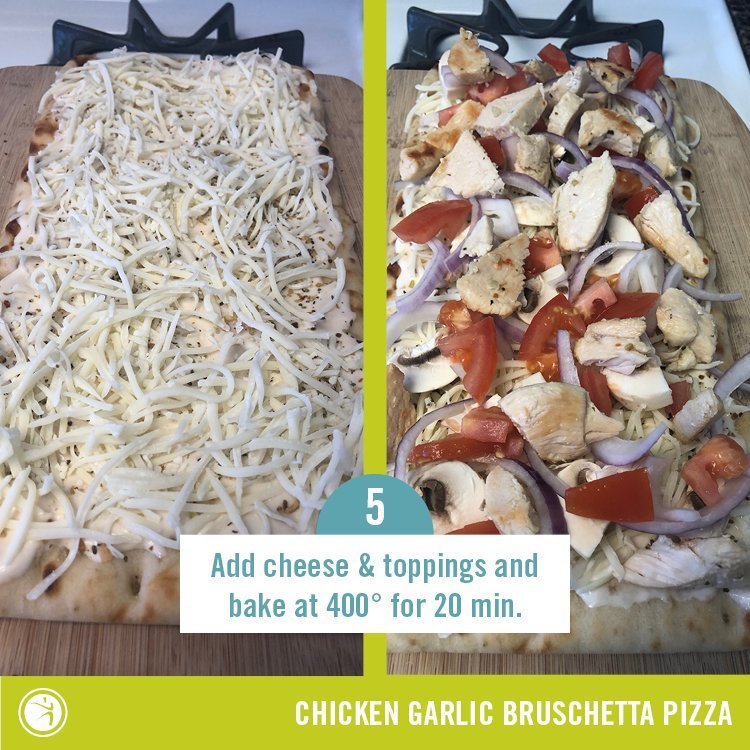 DOWNLOAD A PRINTABLE COPY!
Input your name & email for a free printable copy of this recipe, sent to your inbox!
HUNGRY FOR MORE?
Sign up for LIFE+ TODAY to have these practical tips sent straight to your inbox!
Reader Interactions