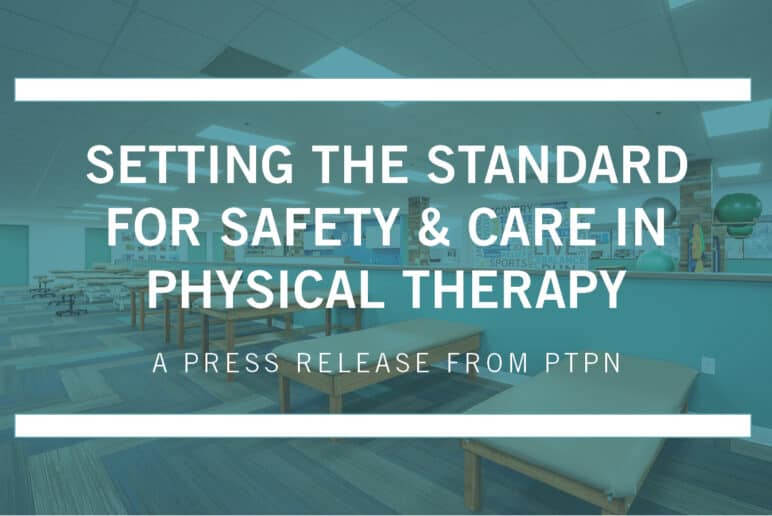 Setting the Standard for Safety and Care in Physical Therapy
July 23, 2020
Orange County, CA – The country is several months into what may be a long haul fighting COVID-19. With no end in sight, physical therapy clinic Coury and Buehler Physical Therapy, a member of PTPN, the country's premier network of independent rehabilitation therapists, has set new standards for cleanliness and safety in their seven locations in Orange County, California.
Like many small businesses, Coury and Buehler Physical Therapy, shut down in March as the virus spread throughout California, and local and state governments were issuing stay-at-home orders. But they knew they couldn't stay closed for long, concerned for the health and safety of their patients. Within a month, they began offering telehealth appointments, allowing for virtual interactions with patients to guide home exercise programs and to discuss progress.
In the meantime, Rich Coury, PT, MPT, OCS, ATC, CSCS, a physical therapist and the co-owner of Coury and Buehler Physical Therapy, began working on a plan for re-opening once local governments allowed it, and the team felt they could offer treatment safely. "We've developed a plan that balances the crucial need for safety, cleanliness and infection control with the need to serve our patients, who rely on our services to regain and maintain mobility and physical function," Rich says.
Some of the elements should look familiar to anyone who knows what the Centers for Disease Control and Prevention (the CDC) has been recommending to businesses for social distancing:
Screening over the phone before appointments to ensure patients have not been sick and are at a low risk of bringing COVID-19 into the clinic.
Checking temperatures at the door to confirm anyone entering does not have a fever.
Creating new clinic layouts that enforce social distancing: Clinical tables more than six feet apart, footprints on the floor to maintain six feet of separation, and chairs have been removed from the waiting room to space patients out appropriately.
Requiring masks for everyone, including therapists and patients. Gloves are left to the discretion of the therapist, but if a patient requests that a practitioner wear gloves, the therapist must do so.
Not allowing more than two patients in the clinic at a time per each PT.
Many of the guidelines followed by Coury and Buehler Physical Therapy exceed the CDC recommendations. Not only do they require anyone exposed to COVID-19 to self-quarantine for two weeks, but anyone that has had a cold or cold-like symptoms must be cleared by a physician before coming into the clinic for treatment. If a person has had a fever, they must be fever-free — without medication — for at least 72 hours before entering the clinic.
The clinic has adapted other practices to increase safety. They stopped using any supplies like rice and putty that would be purchased for community use, to reduce the usage of supplies by multiple people. They have reduced the time patients are in the clinic and have placed more emphasis on home exercises when possible; these measures help them keep patient appointments under their maximum time of 50 minutes for returning patients and 60 minutes for initial evaluations. And they have required patients to submit paperwork and payments electronically in order to minimize contact at the front desk.
And, of course, all clinics are being cleaned repeatedly throughout the day. As they did before the pandemic, Coury and Buehler Physical Therapy cleans every surface after its use, and their physical therapists wash their hands with soap and water between patients. They have made hand sanitizer and Clorox wipes available for patients, and they ask patients to wash their hands or use hand sanitizer before entering the clinic. They have also installed new air purifiers equipped with HEPA filters in every clinic to clean the air as much as possible.
About Coury and Buehler Physical Therapy: Coury and Buehler Physical Therapy was founded by Rich Coury and Brandon Buehler, two physical therapists who met during graduate school and opened their first clinic together 10 years later in 2004. While expanding to seven locations throughout Orange County, California, they have continued to strive for the goals they set when opening their first location: Design the perfect environment totally devoted to healing, a place that would provide the absolute highest level of care, including comprehensive one-on-one evaluations, hands-on manual therapy, the most advanced techniques, and the best, highly trained team of physical therapists — all in a state-of-the art facility. For more information on Coury and Buehler Physical Therapy, contact them at 714-256-5074 or info@cbphysicaltherapy.com, or visit cbphysicaltherapy.com.
About PTPN: PTPN is the nation's premier specialty network of rehabilitation therapists in private practice. It has led the rehabilitation industry in pioneering national contracting and quality assurance programs since 1985. The network has more than 700 provider offices (including physical, occupational and speech therapists). PTPN contracts with most major managed care organizations in the nation including insurers, workers' compensation companies, PPOs, HMOs, medical groups, and IPAs. For more information on PTPN, contact Stephen Moore at 818-737-0246 or smoore@ptpn.com, or visit ptpn.com.