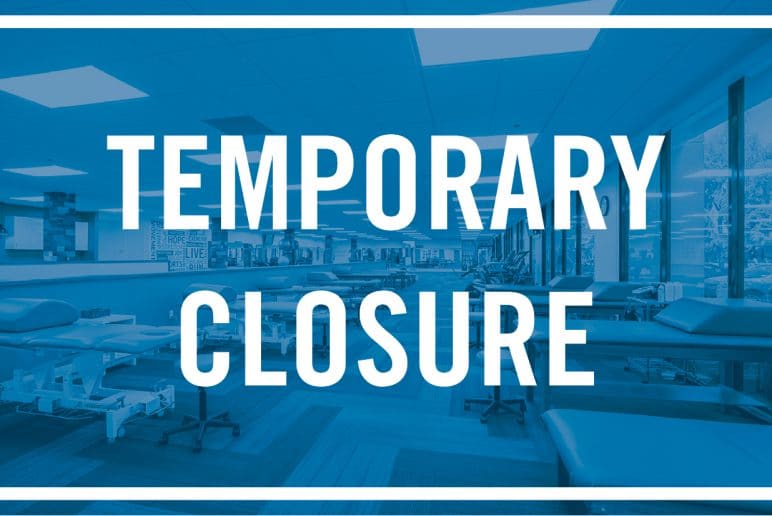 Temporary Closure for CBPT
March 20, 2020
To Our Valued Patients,
First off, we want to let you know how much we appreciate your support and trusting us to provide care for you. We are passionate about what we do and committed to our purpose of helping you enjoy live, pain free.
TEMPORARY CLOSURE
We are sending this personal note to inform you that in response to the coronavirus, we will be temporarily closing down Coury & Buehler Physical Therapy for 3 weeks (March 23-April 10). Any appointment that you have during this time has been cancelled. We plan to reopen our doors Monday, April 13th.
We did not make this decision based on any incidences that we have had with this virus. This decision was made out of an abundance of caution and based on the recent recommendations by the CDC and local and federal government. We determined that this was the best decision for our patients and our staff. If you are a current patient, we encourage you to continue your home exercise program until you resume treatment with us once we reopen.
As mentioned above, we plan to reopen our doors on Monday, April 13. In fact, we are already scheduling our patients for our first week back (April 13-17). If you have not done so already, please make sure you are scheduled for this week. During our closure, we will have limited staff still available to follow up with patient calls, help you schedule your appointments for after this temporary closure, and help you in any way needed.
Please feel free to call (714) 256-5074 or email us (info@cbphysicaltherapy.com) during this time. We will stay in communication with you while we are closed and answer questions you may have.
CORONAVIRUS PROTECTION PLAN
Upon our return from our temporary closure, we will continue with our 'Coronavirus Protection Plan'. This plan has been used as a model by our national association as an example for other Physical Therapy offices to follow. Our plan is based on recommendations from the CDC and WHO. This plan was designed to enhance the safety and well-being for our patients and to increase your comfort level. This plan includes the following:
A strict cleaning regimen throughout our office. Every table and piece of exercise equipment is cleaned between each patient use.
Hand-sanitizer and Clorox wipes are readily available to patients
Our company standard of one-on-one care.
We will decrease the number of patients and staff that are allowed to be present in each clinic to improve our ability to maintain social distancing as much as possible.
We will continue our strict screening process before we accept new patients, to ensure they do not fall into the at-risk categories
Patients will also now have their temperature taken before they enter the office.
We realize this temporary closure may be inconvenient for you and hope you understand our reason behind it. We look forward to providing the same great care for you starting back on Monday, April 13.
Please feel free to email (info@cbphysicaltherapy.com) or call (714) 256-5074 with any questions you may have.
Sincerely,
Brandon J. Buehler, PT, DPT, OCS & Rich Coury, PT, MPT, OCS, ATC, CSCS