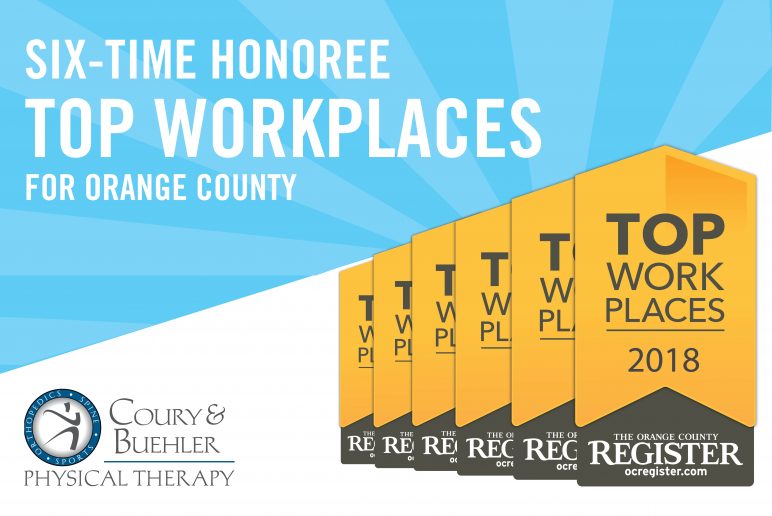 Top Workplaces Award 2018 for Coury & Buehler Physical Therapy
December 17, 2018
Coury & Buehler Physical Therapy celebrates its sixth year in a row on the Inc. 5000 list!
The Orange County based physical therapy company is named one of America's Fastest Growing Companies for its sixth consecutive year!
[BREA, CA] – Dec. 17, 2018 – Coury & Buehler Physical Therapy has been named to the Inc. 5000 list for the fifth year in a row, as a part of Inc. Magazine's annual ranking of the fastest-growing private companies in America.
For the past 14 years, CBPT has exponentially grown within the health industry and has increased to six locations across Orange County—a testament to the company's rapid development. The CBPT team constantly creates a warm environment of healing and genuine care for every patient they serve, and strives to provide customer service that surpasses patient expectations.
Upon being named to the Inc. 5000 list again for 2018, Coury & Buehler Physical Therapy's co-founder Brandon Buehler, PT, DPT said, "Being recognized by Inc. 5000 for five consecutive years is an incredible honor. This recognition of our growth and success is a validation that we are fulfilling the purpose and mission of helping our patients return to enjoying their life without pain or limitations! This honor could not have been achieved without our incredible team who is passionate and dedicated to providing the best care and service possible!"
About Inc.
Inc. is an American monthly publication focused on growing companies. It offers practical advice and information to small businesses, and publishes annual lists of the 5000 fastest-growing publicly held small companies in the U.S., called the "Inc. 5000." Inc. ranks the companies based on the percentage growth over a three-year period and profiles all 5,000 companies on their website (www.inc.com)
About Coury & Buehler Physical Therapy:
Coury & Buehler Physical Therapy specializes in orthopedics, spine, and sports medicine. They have developed a reputation for the results they obtain for their patients and helping their patients enjoy life, pain free. They have a team of the best physical therapists in the region with experience in treating patients in all walks of life. Coury & Buehler Physical Therapy has been recognized nationally, being named 'Top Practice in the Nation' by Advance Magazine and recognized by the Inc. Magazine 5000 list for five years in a row as one of America's fastest growing companies. They have also been recognized by OC Register 'Top Places to Work' six times. They have six state-of-the-art locations throughout Orange County. The Coury & Buehler Physical Therapy team is passionate about helping people enjoy life, pain free!
For more information, visit: https://cbphysicaltherapy.com/about-cbpt/
Check out some photos from our Top Workplaces 2018 celebration with our team!