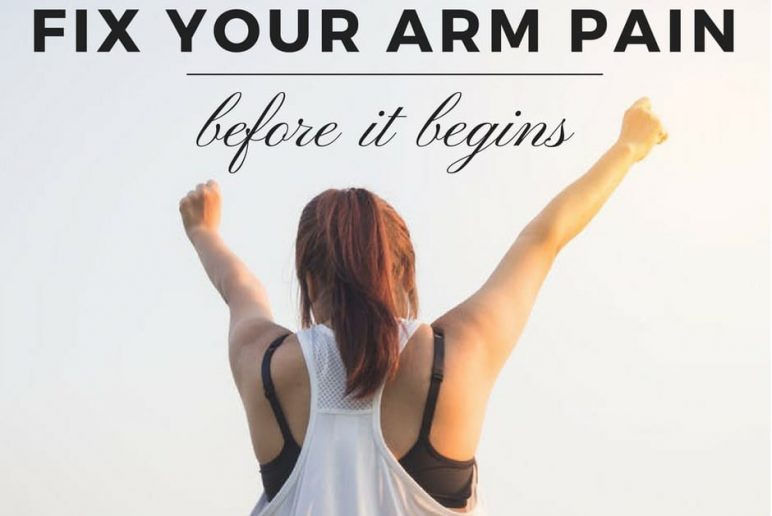 Fix Your Arm Pain Before It Begins
November 13, 2017
Each day, hundreds of patients come to our CBPT locations with some sort of neck, back, shoulder, or arm pain. Much of the time, these individuals are very confused as to why their pain is even occurring. While they ponder these thoughts, they're sitting like "The Thinker."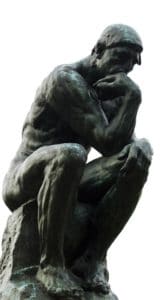 This posture is usually the position many people around the world adopt each day. We've all seen it before– the rounded shoulders, forward head, and overly kyphotic back. This is the posture people adopt over the years from spending so much time in chairs, over desks, or looking too closely at screens. Now, every PT will tell you how important it is to adopt the perfect posture. Poor posture decreases the necessary space for nerves to travel from the neck down into the arm. It also goes a long way in decreasing mobility necessary for overhead activities.
But, instead of telling patients to sit up straight, what if just a couple of exercises helped them to begin with? It's simple, really. We as people sometimes need to be tricked into doing what is best for us. Instead of telling patients to adopt a posture that can be "uncomfortable" at first, even though it's what's best, it can be best to put them into good posture gradually.
These exercises below are meant to help pull the shoulders down and increase mobility at the t-spine.
Trunk rotations (Around the Worlds)
This is a great exercise for everyone to perform because it helps to increase thoracic mobility and decrease thoracic kyphosis. As people sit in chairs over the years, they slowly become those chairs. These exercises increase mobility in all three planes.
It is very important to make sure to have your hips and knees bent at 90 degrees to lock the lumbar spine. When performing Around the Worlds, it is important to have the thumb of the top/moving hand pointed trying to stay in contact with the floor throughout the range of the exercise. This helps make sure that mobility into the frontal, sagittal and transverse plane.
This exercise helps give patients the mobility necessary to sit taller and even helps their ability to pull the scapula down. Overhead motion of the arm also requires minimal thoracic extension, so functional activities will be the improved as well.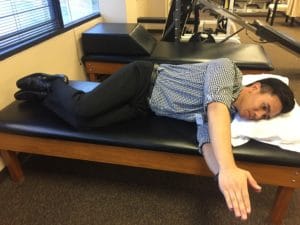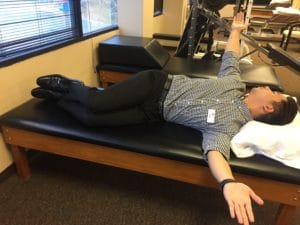 It is important to note, that those with flatter backs such as certain athletes (e.g. baseball players), techniques to increase thoracic kyphosis may be implemented as well, such as PRI (postural restoration) techniques.
These two exercises are very easy and essential exercises to help prevent loss of mobility and function as we age. For the many people out there who sit at a desk all day, taking the time a couple times a day to perform trunk rotations can do wonders going forward.
Sign up for a FREE Assessment with CBPT!
Get injury prevention tips sent straight to your inbox!
Sign up for Life+!
Reader Interactions