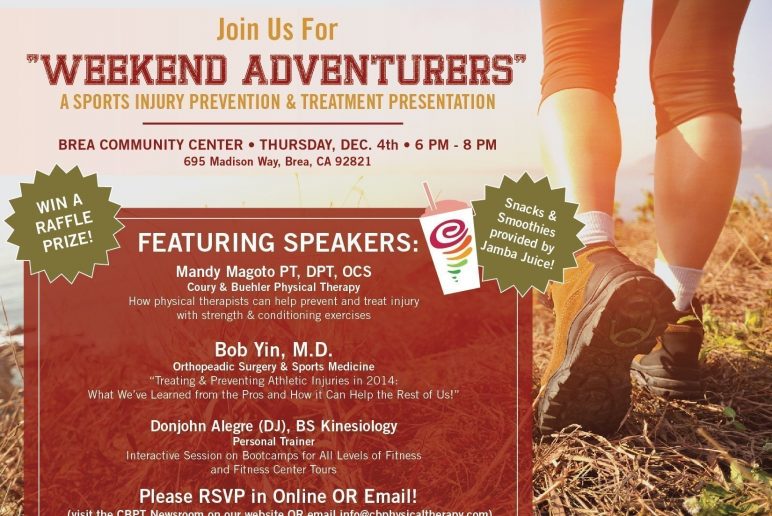 POSTPONED – Weekend Adventurers: Brea Community Center
November 19, 2014
* UPDATE: Due to the busy nature of the holiday season, this event has been postponed until the spring time! We look forward to seeing you then! If you'd still like information on sport injury prevention, please sign up for a free assessment HERE and you can meet one-on-one with a physical therapist who can help you with any sport injury prevention question you may have!
On December 4th, you are invited to a special workshop on preventing injuries -designed for the weekend warriors who love to remain active!
Mandy Magato, PT, DPT, OCS from Coury & Buehler Physical Therapy along with Orthopedic Specialist, Bob Yin, M.D. from Placentia-Linda Hospital will be providing an informative and interactive presentation to help you prevent common injuries!
Join us for this interactive presentation from Mandy and a special presentation of "Treating & Preventing Athletic Injuries in 2014: What We've Learned from the Pros and How it Can Help the Rest of Us!" from Dr. Bob Yin!
You will also enjoy Jamba Juice, raffle prizes, and special fitness tours from a personal trainer, DonJohn Alegre from the Brea Community Center, and much more!!!!
Thursday, December 4th
Brea Community Center
695 Madison Way Brea, CA 92821
6:00 PM-8:00 PM
We hope to see you there!