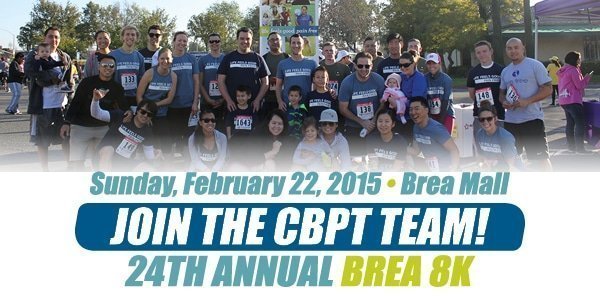 Join the CBPT Brea 8K Team!
January 15, 2015
February 22nd, 2015
Brea Mall / Brea, CA
Race Begins at 8 AM
All team members will be entered in a raffle to win a CBPT RUNNER'S KIT!
Run/Walk the Brea 8K with the Coury & Buehler PT's team by registering online at:
When you get to the section that says 'TEAM INFORMATION', select: Coury & Buehler PT
Don't forget to wear your CBPT T-shirt. If you need one, just ask the front desk!
Meet at the CBPT booth at 7:30 AM!
This is an event you won't want to miss! After the race, registered individuals are invited to join in with awards, entertainment and a variety of food options from some of Orange County's finest restaurants. We are excited to see you there!