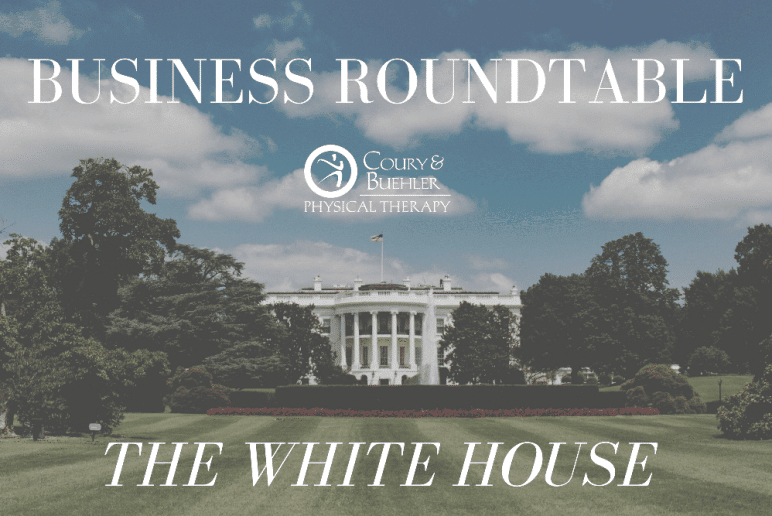 The White House: Business Roundtable
January 24, 2020
Coury & Buehler Physical Therapy Invited to White House to Discuss Excessive Regulations in Physical Therapy and Healthcare
[BREA, CA] – Dec. 2019 – Coury & Buehler Physical Therapy was recently invited to the White House to meet with the President, Vice President and several high-ranking cabinet members. Rich Coury represented our company to take part in this meeting. CBPT was one of eight business owners across the nation invited to this meeting with President Donald Trump, Vice President Mike Pence, Secretary of Labor Gene Scalia, Small Business Administrator Chris Pelkerton, Director of the National Economic Council Larry Kudlow and several other high-level cabinet members. The purpose of this meeting was to discuss how regulation is negatively impacting small businesses. Rich was able to discuss the negative effects regulation has on healthcare, specifically focusing on physical therapy and the patients for whom we care. Coury & Buehler Physical Therapy was honored to be selected for this meeting and the opportunity to provide valuable insight to these lawmakers about the effects that burdensome and unnecessary regulation has on healthcare. Coury & Buehler Physical Therapy is proud to be a leader in our industry and represent the physical therapy profession and more importantly, our patients.
Being invited to the White House to meet the President, Vice President and other members of the cabinet was an honor for CBPT. However, the primary focus was to discuss the negative impact that recently proposed Medicare regulations will have on patient access to physical therapy. While at the White House, Rich had the opportunity to meet with policy decision makers Secretary of Health and Human Resources Alex Azar and Paul Ray Director of the Office of Information Regulations. He was able to discuss with them how Medicare regulations will limit access for patients seeking physical therapy and the harmful consequences this will have on patients.
The Centers of Medicare and Medicaid Services (CMS) recently released the Medicare Physician Fee Schedule for 2021 that proposed and passed an 8% reimbursement cut. This drastic of a cut as well as a recent 2% cut already in place and additional administrative requirements for physical therapists will create a scenario where the costs to deliver quality care is going to exceed the reimbursement. This may result in many private practice physical therapy clinics closing and others choosing to no longer treat Medicare patients.
Patients will be forced to seek physical therapy at hospital settings where it is already common to wait three weeks for an initial appointment and follow up visits are sporadic. The waiting lists will only get longer, and patients will lose even more access to physical therapy.
Rich was able to provide information about the burden certain Medicare regulations place on physical therapists and how physical therapy access will be limited for Medicare beneficiaries. He also shared with Secretary Azar, and Mr. Ray who head the departments CMS report to that CMS's effort to cut costs by reducing reimbursement will have the opposite effect. It is predictable that less access to physical therapy will result in more falls, more hospital admissions, longer hospital stays, and increased costs to tax payers.
Red tape and bureaucracy have long been a part of Medicare plans. However, CMS has steadily been increasing the burdens placed on medical providers to care for Medicare beneficiaries. It is now approaching a point where it is not sustainable for private practices to provide care for Medicare patients. In addition to reimbursement cuts, Medicare Advantage plans create strategies to limit access, and often beneficiaries find themselves initially approved for fewer visits than stated in the plan information that they used to decide which plan to select. The recently released National Correct Coding Initiative Edits (CCI) for 2020 no longer allow physical therapists to provide certain treatments on the day of evaluations or progress evaluations. This inhibits physical therapists' ability to choose certain treatment options that are best for each patient on their first visit.
The policy decision makers in Washington shared that the only way to change these rulings now are through amendments. The best way to give these amendments priority is for stakeholders to share their feelings. CBPT is collaborating with other private practices, the American Physical Therapy Association, and lobbyists in Washington DC to help amend CMS recent rulings.
Amendment: Since this article was initially written, positive change has already happened. CMS has reversed their decision on CCI edits. Much more change needs to happen still. We need your help to make change.
The first step is to let your representatives know these cuts are damaging. A template letter is provided in the following link. Fill in your information and it will automatically populate your representatives. You may use the template letter or customize it. It takes one minute to complete.
https://www.votervoice.net/APTA/Campaigns/69563/Respond
We will need your future support to share your concerns with specific policy decision makerrs later this year. Thank you for helping us advocate for you and so many of our patients!
_______________________________
About Coury & Buehler Physical Therapy:
Coury & Buehler Physical Therapy specializes in orthopedics, spine, and sports medicine. They have developed a reputation for the results they obtain for their patients and helping their patients enjoy life, pain free. They have a team of the best physical therapists in the region with experience in treating patients in all walks of life. Coury & Buehler Physical Therapy has been recognized nationally, being named 'Top Practice in the Nation' by Advance Magazine and recognized by the Inc. Magazine 5000 list as one of America's fastest growing companies. They have also been recognized by OC Register 'Top Places to Work'. They have three state-of-the-art locations throughout Orange County. The Coury & Buehler Physical Therapy team is passionate about helping people enjoy life, pain free!