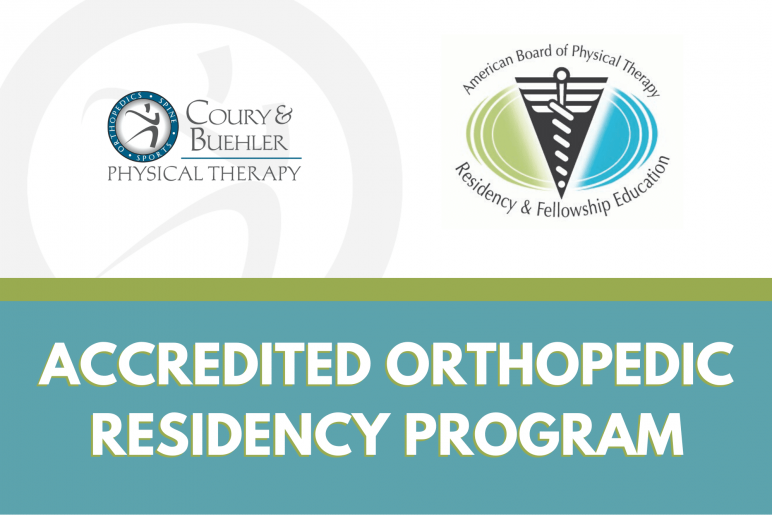 Accredited Orthopedic Residency Program
January 29, 2020
ABPTRFE has granted Coury & Buehler Physical Therapy accreditation as an Orthopedic Residency Program!
The Orange County based physical therapy company recognized for their commitment to residency training of physical therapists!
[ORANGE COUNTY, CA] – Physical Therapy orthopedic residency programs provide postprofessional education to physical therapists through mentoring, structured curricular experiences, and guided learning designed to increase the quality of patient care and practitioner knowledge.
The American Board of Physical Therapy Residency and Fellowship Education (ABPTRFE) is our profession's national organization that determines if a program has met the criteria and educational standards required to be accredited. Due to our team of passionate and highly skilled physical therapists, our orthopedic residency program was granted accreditation in 2017! This recognizes CBPT's commitment to our profession and mission of developing orthopedic clinical specialists!
There are only 17 accredited orthopedic physical therapy residencies in California, and CBPT has the honor of being the only private practice accredited in Orange County! Being granted accreditation serves as an inspiration to provide high-quality education to physical therapists with the ultimate goal of increasing the availability of highly skilled clinicians in the community!
About Coury & Buehler Physical Therapy:
Coury & Buehler Physical Therapy specializes in orthopedics, spine, and sports medicine. They have developed a reputation for the results they obtain for their patients and helping their patients enjoy life, pain free. They have a team of the best physical therapists in the region with experience in treating patients in all walks of life. Coury & Buehler Physical Therapy has been recognized nationally, being named 'Top Practice in the Nation' by Advance Magazine and recognized by the Inc. Magazine 5000 list as one of America's fastest growing companies. They have also been recognized by OC Register 'Top Places to Work'. They have three state-of-the-art locations throughout Orange County. The Coury & Buehler Physical Therapy team is passionate about helping people enjoy life, pain free!