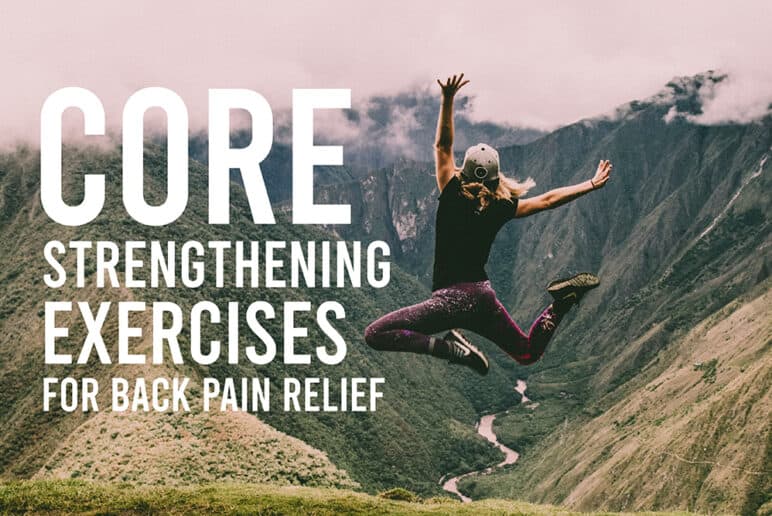 4 Core Strengthening Exercises for Back Pain Relief
January 21, 2021
What is the "core"?
You hear about the importance of having a strong core all the time, but what exactly is the core? Generally speaking, your core is made up of a group of muscles that surround the spine on all sides to help to stabilize the body when you are exercising, walking, and doing everyday tasks. That's right- training your core isn't just for athletes, it's for everyone! Even simple tasks like bending over to pick our shoes off the floor require us to have some level of strength and stability in our core to prevent our back (or other areas of the body) from compensating.
Does a weak core cause low back pain?
Weakness or inefficiency in one or more of these groups of muscles can lead to pain, poor postural awareness, and ineffective movement strategies that put you at greater risk of injury, especially back pain. According to research, it is estimated that approximately 80% of the population will have some experience with low back pain in their lifetime 1. There are always things that cause pain that will be unavoidable, but if you could reduce your risk of pain and injury by maintaining a strong core, why wouldn't you?!
How can I strengthen my core to prevent or relieve low back pain?
Below are a few basic exercises to get you started on your road to a bulletproof core. Start off with one set of 10 repetitions of the exercises, and gradually increase it to 2-3 sets of 10 as you get stronger. As a caveat - none of these exercises should cause or increase your back pain! Make sure you are keeping your back in a "neutral spine" position, which means it is not arched and it is not rounded, but in the middle. An easy way to visualize this for yourself is to feel the bones on the front of the pelvis just below your belly button- these bones should be parallel to the floor.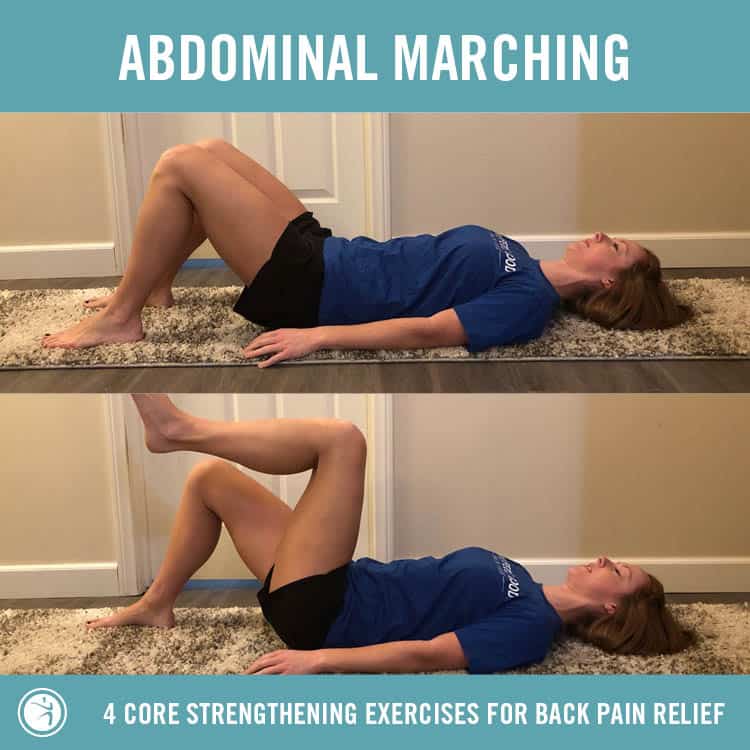 Abdominal Marching
To begin, lie flat on your back (preferably on a firm surface) with your knees bent and a neutral spine.
Bring your ribcage down and tighten/brace your core. Make sure you aren't holding your breath!
While maintaining the abdominal brace, slowly bring one knee up toward your chest, then slowly return the foot to the floor. Alternate sides.
Progression: If the above becomes easy, you can start with both legs in the air with your knees bent (in a tabletop position). Then alternate lowering one leg and tapping the foot on the floor without arching your back. Bring that leg back into the air before lowering the opposite leg to the floor. Keep alternating back and forth.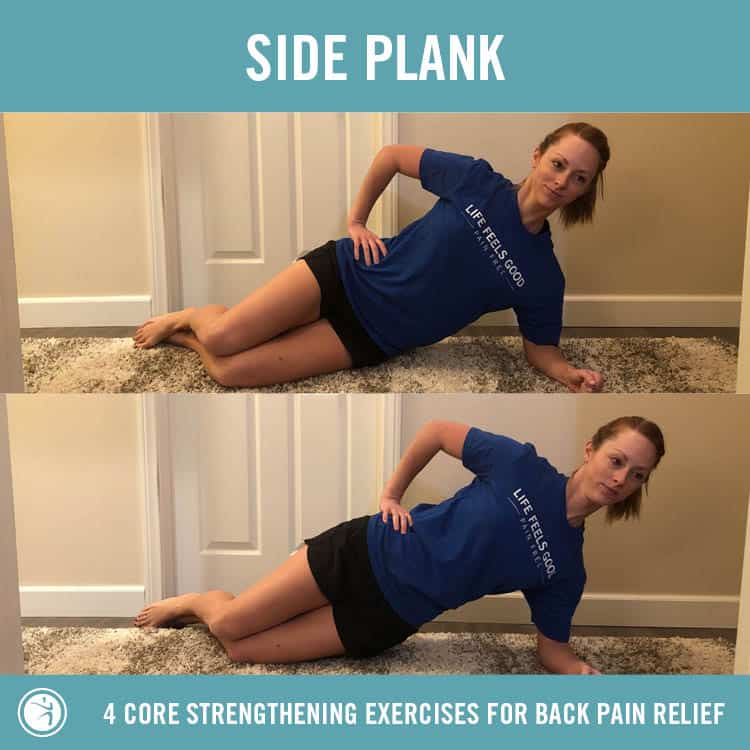 Side Plank
Start by lying on one side with your knees bent and your elbow directly underneath your shoulder.
Tighten your core and lift your hips off the floor, balancing on your knee and forearm. Make sure to keep your torso in a straight line from shoulder, hips to the knee (as shown). Don't allow your butt to stick out behind you or your back to arch.
Hold this position for 30 seconds, then switch sides. Perform 2 sets on each side.
Progression: If the above becomes easy after increasing the hold time, you can extend your legs straight and balance on your feet rather than your knees.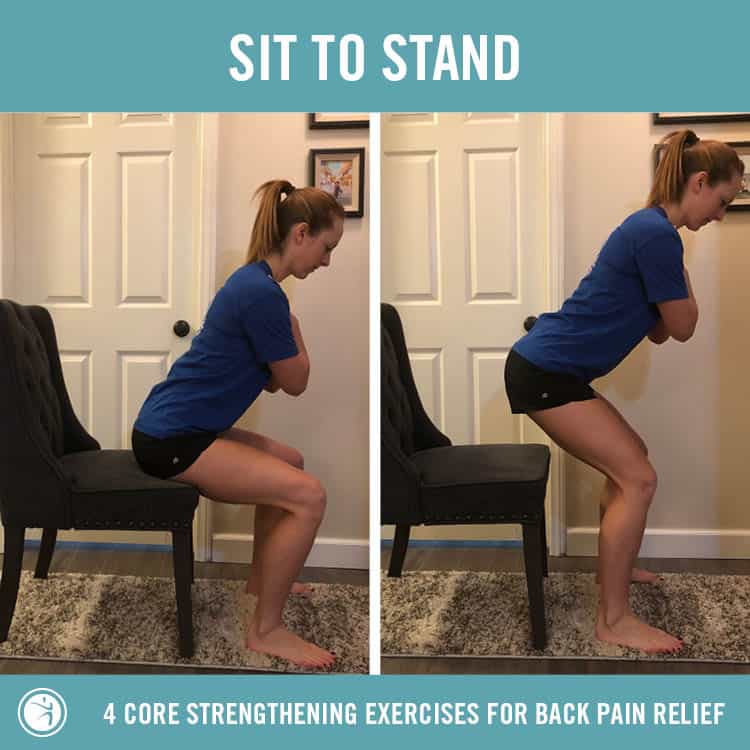 Sit to Stand
Start by sitting toward the front of a standard height chair with your feet on the floor hip width apart and slightly behind your knees.
Keep your core tight and back straight. Bend forward from the hips to get your "nose over your toes".
Begin standing up, focusing on bringing your hips up and forward at the same speed as the knees straighten. You should feel your butt muscles working to help you stand up. Do not allow your back to arch as you stand up.
As you go to sit back down, tighten your core and push your hips back, reaching for the chair with your buttocks. Slowly lower yourself back to the chair keeping your back straight.
Progression: If this becomes easy, instead of sitting all the way back down in the chair, lightly tap your butt on the chair, then immediately stand back up without taking a break. This will increase the challenge to your core and gluteals.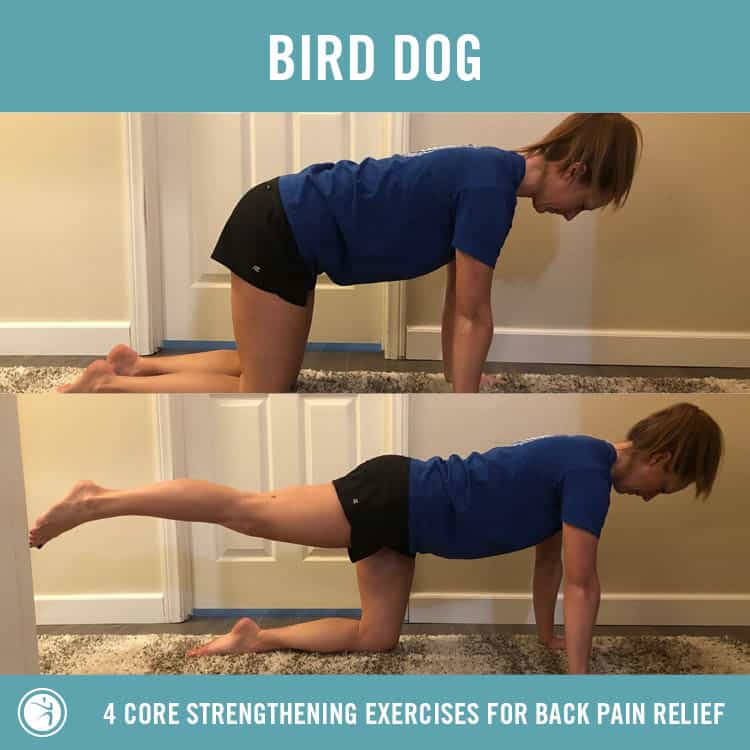 Bird Dog
Begin on a firm surface on your hands and knees. Your hands should be directly under your shoulders and your knees directly under your hips.
Tighten your core and slowly bring one foot out behind you, preventing your torso from rotating. Do not allow your low back to sag or arch.
Hold leg in the air for 5 seconds before lowering back to the starting position.
Alternate legs.
Progression: When this becomes easier, you can increase the challenge by adding arms into the mix. Tighten the core and lift one leg out behind you (as seen above) while at the same time lifting the opposite arm out in front of you (e.g. left arm and right leg).
All of these exercises can be done without equipment at home- perfect during COVID-19 gym closures. If you are experiencing back pain and feel you could benefit from a physical therapy assessment, please contact us to schedule an appointment or free consultation today!
References: 1) Rubin Dl. Epidemiology and Risk Factors for Spine Pain. Neurol Clin. 2007; May;25(2):353-71.
If you're experiencing any pain or discomfort while at home, contact us at 714-256-5074 for a free consultation or fill out the form below! A representative will contact you shortly.
WANT MORE TIPS? SIGN UP FOR LIFE+!
Reader Interactions