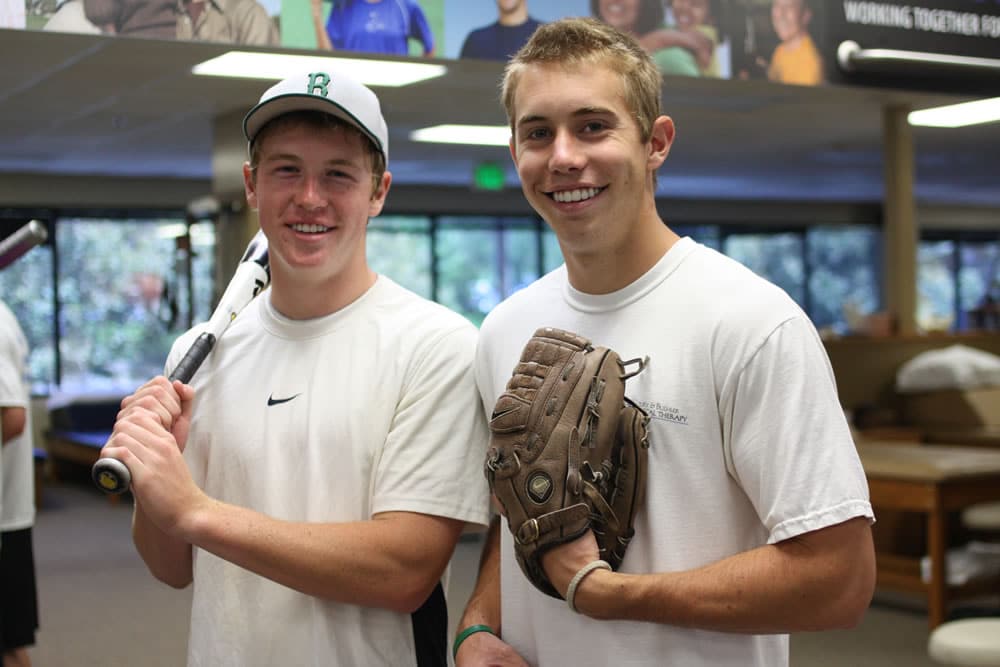 "He not only makes you feel good about your rehabilitation, but you leave the clinic feeling good about your progress and your life."
– Tyler & Nick Kern
TYLER AND NICK KERN
When Tyler and Nick Kern walked through our doors, they were only 13 and 11 years old respectively. Back then, we couldn't imagine how these two boys would become apart of our CBPT family.
It was about five years ago that the Kern boys first came to Coury and Buehler Physical Therapy. When we first met Tyler, he was a pitcher that had initially come in for his right shoulder. His younger brother Nick, came in for an agonizing elbow problem. Both boys had injured themselves while playing baseball, and was recommended by their physician Dr. Joseph Longnecker to seek our help for rehabilitation.
"I took a break from baseball and when I came back, I just over did myself," said Nick. In September 2009, Nick began his baseball training and then quickly realized something was not right. "I knew something was wrong right away because the motion to throw the baseball hurt my elbow tremendously." Nick was evaluated by Dr. Brandon Buehler, PT, DPT who determined he had thrown out his elbow.
After months of rehabilitation, Nick began to feel better at each visit with Brandon. "Brandon is awesome!" exclaimed Nick. "He not only makes you feel good about your rehabilitation, but you leave the clinic feeling good about your progress and your life."
With the success of his younger brother Nick, Tyler decided to come to our facility to rehabilitate a myriad of problems that haulted his baseball career. Tyler has seen us for his shoulder, wrists, ankle, both thumbs and most recently, his right elbow, just like his younger brother. "I was confident Coury and Buehler could help me because they helped my brother," said Tyler. "I've only heard great things about them."
Tyler received his injury while pitching and playing for multiple teams. The strain from playing so much baseball eventually took a huge toll on his elbow.
Just after one month of seeing Board Certified Orthopedic specialist Roland Dulla, PT, DPT, OCS, Tyler is now able to throw harder and farther than before he had his injury. "Roland saved me and let me continue to play the game that I love and I cannot praise him enough," said Tyler. "He got me where I need to be in order to be ready for the upcoming season."
Today, both boys are fully recovered and experience no pain at all. Nick is the starting third baseman for the Brea Olinda Wildcats and was nominated as the team captain in his junior year. Tyler will be starting a new chapter in his baseball career at Santa Ana College with hopes of becoming their starting second basemen. Good luck to the both of them!