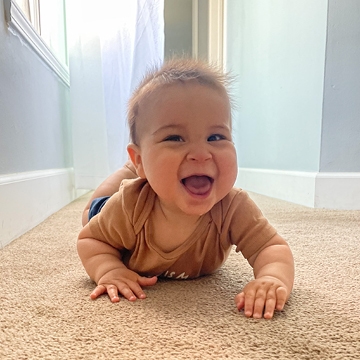 "As a result, Leo began to show progress not only with the shape of his head but also in his ability to move more freely without discomfort or restriction."
– Darlene Da Silva
Leo Da Silva
At about 2 months old, Leo's mom noticed that he often preferred laying or looking to his right side which led to flattening on the right side of his head. His parents brought it up to Leo's pediatrician at his following Well Visit. His pediatrician suggested that physical therapy could help Leo improve his range of motion and referred them to Coury & Buehler Physical Therapy. Leo's parents were eager to get started on physical therapy as the skills gained could have long-term benefits in various areas of Leo's development related to his gross and fine motor skills. Due to his being born prematurely, this seemed like an added benefit to starting therapy, and he was able to start therapy at around 2 and a half months.
His Physical Therapist, Amy Sybesma, PT, DPT, CSCS made sure Leo felt comfortable, engaged, and challenged. For Leo's mom, it was very reassuring to see a therapist put so much thought, kindness, professionalism, and quality compassionate care into every session. Amy did a beautiful job at sharing her knowledge and expertise to support Leo's progress at home. As a result, Leo began to show progress not only with the shape of his head but also in his ability to move more freely without discomfort or restriction. Leo's pediatrician shared being impressed with his progress and development at his 6-month check-up.
Now, Leo is ready to begin crawling any day, placing him within range of reaching these significant milestones. This has been a big win for their little family since he was 5 weeks premature. Overall, physical therapy has left a very positive mark on them. Leo's mom shared how helpful physical therapy can be with other moms expressing similar concerns, with hopes that Leo's story can encourage others, at any age, to seek the support and care of a physical therapist.