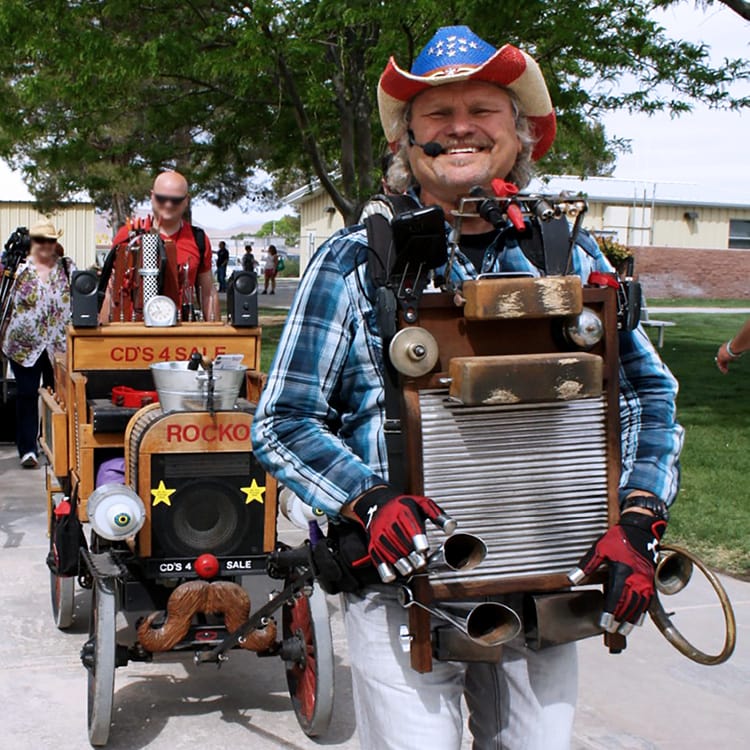 "I look forward to many years of being a One-Man-Band thanks to Scott Locken, PT, DPT and Coury & Buehler Physical Therapy."
– Larry Hiskett
Larry Hiskett aka Washboard Willy
I've been performing as "Willy's Washboard Jamboree" in the fair industry since 1995. I started walking in the fairs pulling a custom, 1/3 scale Conestoga wagon. I have suffered countless back & sciatic nerve issues along the way. My wife, Donnis, could no longer help me during my performances due to her knee problems which began after a car accident in her mid-twenties. Without her help, I had to unload, perform, load, and drive to the next gig by myself, which worsened my back and leg issues.
When Donnis' knees started improving as a result of Coury & Buehler Physical Therapy treatments, she suggested that I go see them. I was skeptical at first, but throughout my regiment of yearly visits, I feel much better and stronger. Whenever I extend my body past its limits, I visit Coury & Buehler Physical Therapy with my physical therapist Scott Locken, PT, DPT. He always helps me get back on track. It is short of miraculous how he gently brings me back to the center, pain-free. I honestly don't think I could have continued my career without his help and guidance. Not only do I get amazing attention in-house, but I am also given exercise programs to continue at home and on the road.
Today at the ripe young age of 73, I'm in the best shape of my life. Now, I pull a guided, 650-pound, custom music truck with an electric motor assist. I look forward to many years of being a One-Man-Band thanks to Scott Locken, PT, DPT and Coury & Buehler Physical Therapy.