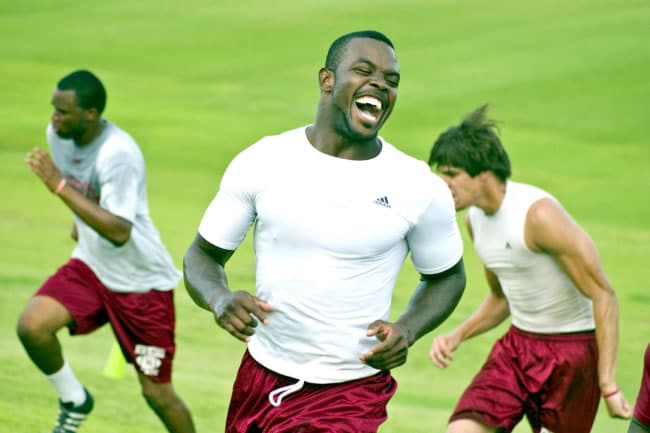 "I knew it was gonna be hard and difficult to get back to normal and play up to form, but I did!"
– Kenneth Turner
KENNETH TURNER
Junior college, All-American, Kenny Turner, walked through our doors, injured, on crutches and in so much pain that he thought his football dreams were over. His quick speed and skill set him far apart from the rest of the competition and he proved to be a viable component in his team's success each and every game. Nobody even compares to his fierce competitiveness and always smiling face.
During a practice in September 2007, Turner tore his right ACL. He re-injured the same knee as well as tearing is LCL and hamstring during a cut on a kickoff return in September 2008.
"I cried," Turner said about re-injuring his knee. "It wasn't the pain, and it hurt, my feelings were hurt. I was about to get a plane ticket and go. I never felt pain like that. I felt like I lost the love of my life."His family and friends told him he had come too far to quit, so he underwent a second operation on his right knee injury and began another round of rehabilitation. That's when we had the pleasure of meeting Kenny.
Kenny came to Coury and Buehler Physical Therapy in 2009 and just by his face, his therapist, Dr. Brandon J. Buehler, PT, DPT, OCS knew that his knee injury was inhibiting his life and he needed help.
After initially meeting with Brandon, Kenny also met and worked with therapist Angelo S. Urquico, PT,DPT, OCS, CSCS, and together they created a treatment plan with exercises specific to Kenny's needs and goals.
For six months Kenny came to Coury and Buehler Physical Therapy, working hard and completing all of his exercises his physical therapist gave him. Who would have thought that after two knee surgeries and some major set-backs with injuries, Kenny would be back on the field, stronger, faster and now, with NO pain!
"I knew it was gonna be hard and difficult to get back to normal and play up to form," said Kenny "But I did!
Kenny returned to playing his first full season with Fullerton Community College in 2009.
Kenny's journey only began here as he ventured to the University of New Mexico on a football scholarship where he played two seasons for NMSU after he rushed for more than 1,500 yards at Fullerton (Calif.) College, earning Junior College All-American honors in 2009 .
Recently, the new Mexico State New Mexico State running back Kenny Turner has hired an agent and will not return to New Mexico State University next season, instead opting to enter the NFL Draft, the school announced on Friday. Turner's departure will be a major blow for the Aggies offense, but everyone, including his coaches are are all in support for this next chapter in Kenny's life.
Good luck Kenny! We are proud of your accomplishments and we wish you nothing but the best for the future.