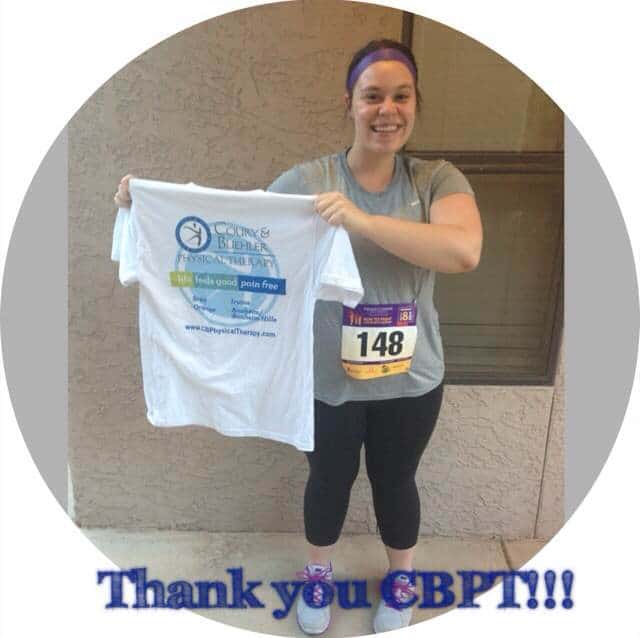 "Thanks to YOU I just finished my first 5k after ACL surgery & rehab!"
– Julia Bates
JULIA BATES
As a college student, Julia Bates suffered an excruciating knee injury playing soccer. After learning that she tore her ACL, her doctor Orr Limpisvasti, from Kerlan Jobe Orthopaedic Clinic, advised her to start physical therapy to strengthen her knee pre-surgery. Julia agreed to start physical therapy hoping it would help with pain that inhibited her from living a pain free life. Coury and Buehler Physical Therapy was recommended to her by friends who had rehabbed sports injuries, so Julia decided to try them out.
Julia quickly realized that CBPT would become family, as she rehabilitated her knee over the course of 18 months. In the first session with Brandon Buehler, PT, DPT, OCS, it was clear that he had her best interest in mind. He was not just concerned with her physical health, but also her mental health, as well. His aim was to strengthen her body, along with her mind, so she could return to the sport she loved.
After her ACL reconstructive surgery in November 2012, Julia worked closely with Brandon, Rich Coury, PT, MPT, OCS, ATC, CSCS, and Angelo Urquico PT, DPT, OCS, CFMT, CSCS to rehab her knee. Going to physical therapy three times a week was a challenge, but Julia found that CBPT had become like a second family to her. Everyone from the front desk staff to the aides to the other therapists knew her name and they were genuinely excited to see her each time she came in for treatment. Julia felt like a vital part of the CBPT family during the course of the recovery process. Unlike other physical therapy clinics, Brandon Buehler, Rich Coury, and the rest of the CBPT team was focused on making sure Julia received the best one-on-one treatment possible.
A little over a year after Julia was released from physical therapy, she completed her first 5K. This fueled Julia to keep running and training for more races. Since her first 5K, Julia has completed the Spartan Race and is currently training for a half marathon. Thanks to the care and excellent treatment she received at CBPT, Julia has been able to live a pain free and active life! She is grateful for the guidance Rich and Brandon gave her and will always consider CBPT family.