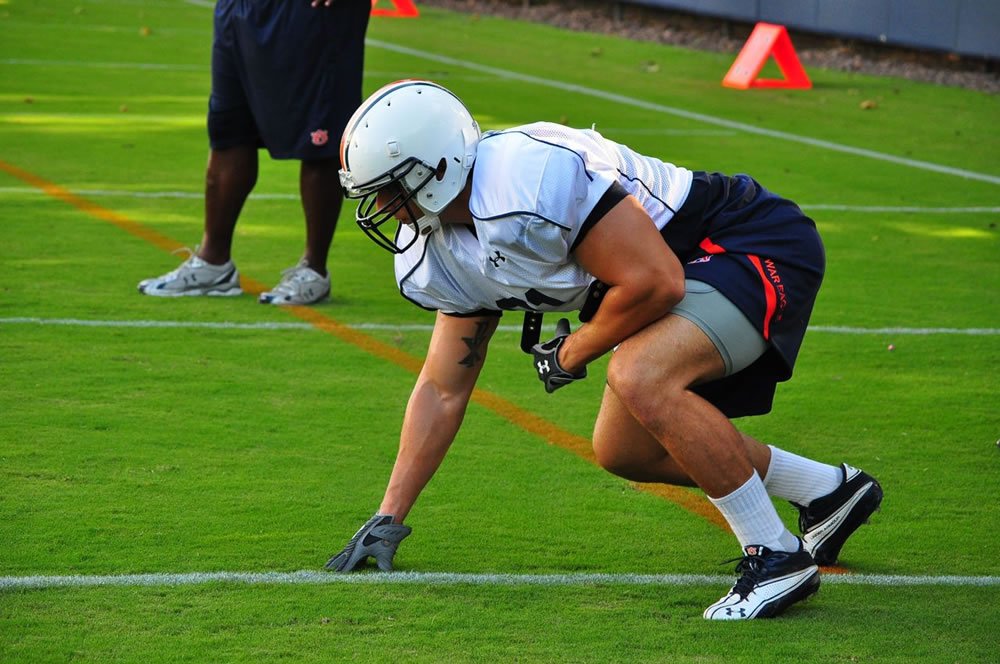 "I couldn't have picked a better place!"
– Joel Bonomolo
JOEL BONOMOLO
It was a happy day this spring for the Auburn Tigers football team of Auburn University in Alabamba, as they received word that they were getting a talented 6-foot-3, 245 pound linebacker, Joel Bonomolo from Fullerton Community College. The four-star recruit originally from Metairie, Louisiana, was an All- Metro selection for his high school team and continued his football success at FCC.
Originally, Bonomolo chose Fullerton College because of California's reputation for playing some of the nation's top junior college football teams. Two and a half years later, he found himself being scouted by some of the nations top football programs. He had offers from LSU, Utah, Arizona, Iowa State and many others. Despite all of the other offers, Bonomolo chose Auburn University. "Auburn knew they wanted me. That's why I committed to them," Bonomolo said. "The number one thing was the coaches. The second thing was the opportunity. I've always wanted to play in the SEC (Southeastern Conference). When I went to visit the campus, I knew it was the place for me. I could feel it."
Bonomolo had suffered a shoulder injury in the summer of 2009. Doctors initially thought it was a rotator cuff tear; however an MRI indicated that he had a torn labrum. Despite the pain from the labrum tear, Bonomolo kept playing football. He progressively made his shoulder worse every game he played. It wasn't until November 2009 that Bonomolo remembers making a tackle during a game and feeling like he had dislocated his shoulder. "I knew something was wrong. I was in extreme pain."
The next day, Joel went to see his physician who told him that surgery was inevitable. "Football means everything to me," said Bonomolo. "It was hard to stop playing to get the surgery, but I knew I couldn't keep playing on a bad shoulder." At the end November, Bonomolo underwent a successful labrum repair surgery. After his surgery, Bonomolo came to Coury and Buehler Physical Therapy on a recommendation from his teammate Kenneth Turner.
Bonomolo was evaluated and cared for by Clinical Director Angelo Uriquico, PT, DPT. "When Joel was first evaluated, he was noticeably discouraged and unsure if his shoulder was going to recover completely," said Angelo. "We assured him he'd be back to playing soon if he committed himself to our rehabilitation program." Sure enough, after a couple of weeks of rehab, focusing on manual therapy and aggressive core and shoulder stabilization exercises, Joel's shoulder felt a lot better and was more motivated than ever to progress with physical therapy.
"I couldn't have picked a better place!" Bonomolo joyfully proclaimed. After only three months of rehabilitation for his shoulder, Joel feels like he is 110% better. "Angelo is impressive," stated Bonomolo. "Everyone is personal, attentive, and Angelo created a custom workout only for me."
Bonomolo will join the Auburn University family next fall with the intent to play defensive end or linebacker. Ever since Bonomolo was five years old, he has had aspirations of someday playing in the NFL. With the track he is on, he is definitely on his way to being a star.
Since joining the Auburn Tigers, Bonomolo was part of the 2010 National Championship team where the Tigers defeated Oregon 22-19.