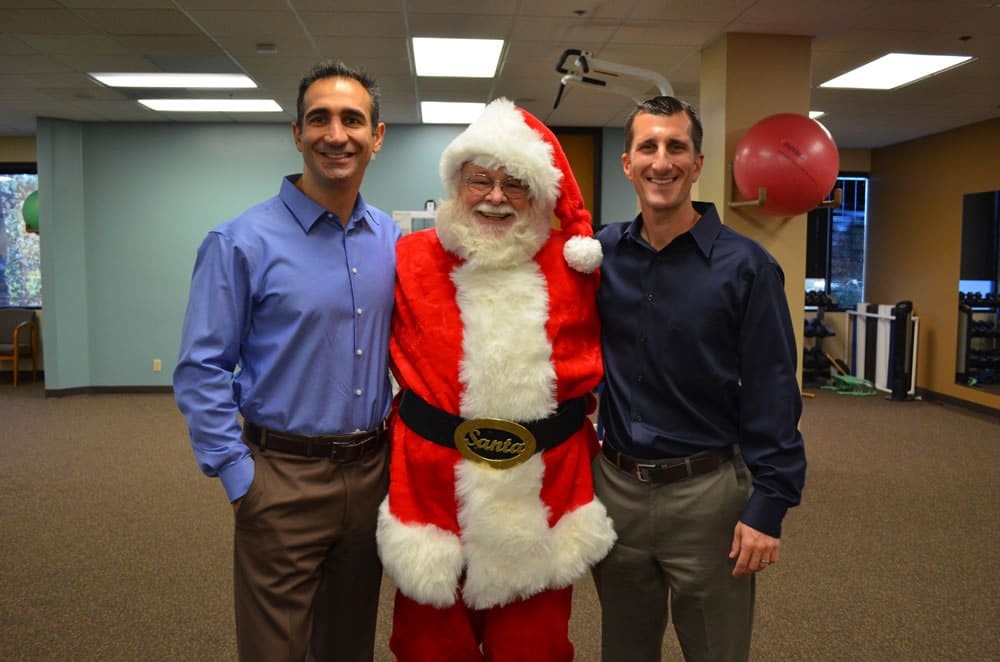 "There is nothing better than to be free of pain. I can now sleep better and do things that I enjoy which I hadn't been able to do for many years."
– Jim Medici
JIM "SANTA" MEDICI
My name is Jim Medici, I am 74 years old and retired. I have an Industrial Engineering degree and spent 40 years in the field of engineering and manufacturing management. I lived in Chicago until my employer Beckman Instruments moved my family to Fullerton, CA in late 1968. My family and I have now lived here for 43 years and I have been married to my wife Becky for 53 beautiful years. We have four children, four grandchildren, and one great-grandchild due in December.
In 2008, I underwent very serious surgery to repair a badly torn rotator cuff in my right shoulder. My injury was due to many sport activities from the prior 30 years. I had experienced pain when pitching to my little league teams and playing golf, but I tried to ignore the pain. Then finally in early 2008, the pain became constant and I went to see my family doctor, Dr. Ranney, who referred me to Dr. Karich, who then referred me to Coury & Buehler Physical Therapy which I was very pleased with.
My next experience involved rotator cuff surgery in 2012 in the other shoulder, which came about by over-use throughout the time that my right shoulder was healing. This time I was referred to another therapy group and after two visits I left them and returned to C&B and was again very pleased.
I really looked forward to my treatments at Coury & Buehler because I could feel improvement after each treatment. Both of my shoulders were fully cured and pain was no longer anywhere in sight. I actually felt bad when I was told that I no longer needed treatment. I missed seeing my C&B friends.
There is nothing better than to be free of pain. I can now sleep better and do things that I enjoy which I hadn't been able to do for many years.
It was a very pleasurable experience at Coury & Buehler. Most importantly, I recovered in all cases and returned to normal life. The treatment was also a mental cure in that after surgery, you really feel depressed because you can't do anything except feel sorry for yourself. However, physical therapy gave me hope and relief in that the C&B personnel were there to help me. They were all so pleasant starting with the girls at the front desk, to the physical therapists, and all of the aides. I hated the thought of stopping physical therapy, but now I feel just great, and I tell everyone about C&B.
I am now back to doing the things I enjoy, like being an avid fan of baseball, football and basketball, as well as gardening and holiday decorating. I have been Santa for 11 years now and just love the smiles I can bring to all the thousands of children I visit each year. My latest hobby is making jigsaw puzzles which I frame and hang in my garage, which is my 'Santa Cave.'