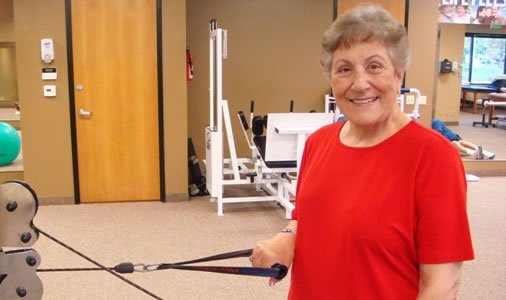 "Thanks to an excellent surgeon, a wonderful physical therapy team, and a positive attitude, I'm now on my way to recovery."
– Didi Engler
DIDI ENGLER
Didi Engler's love is horseback riding. Along with her 10-year-old horse, Lil Buckskin Baby, Didi qualified to compete in the 20th Annual Pacific Coast Horse Shows Association Jack and Linda Baker Reining Classic on August 20-21, 2010. The show was held in front of a very enthusiastic crowd at the Los Angeles Equestrian Center's Equidome.
The reining competition involves a great deal of speed and accuracy. Riders must guide their horse through a precise pattern of circles, spins, and stops. The horse is judged on its ability to perform the set pattern of movements.
Didi was awarded the Sportsmanship Award of the Year at the show. She also had the honor of being inducted into the Hall of Fame by the Santa Barbara National Horse Association on November 22, 2010.
Although Didi has been to Coury & Buehler Physical Therapy for 2 other body parts, she is now here because of her left shoulder replacement surgery. Didi suffers from osteoarthritis, which is caused by the breakdown of cartilage in the joints. The arthritis pain in both of her shoulders makes it extremely difficult to get on and off of her horse. Surgery was inevitable, so she finally decided to go to Dr. Scott Fischer, an orthopedic surgeon in Orange. Dr. Fischer is well-recognized in his field, as he gives lectures all across the country about shoulder replacement surgery. Didi had her left shoulder replaced on October 25, 2010.
With the help of her physical therapist, Armia Abdo, after only 5 weeks, Didi says she has no more pain in her left shoulder. She has a much better range of motion, and now her main focus is to continue physical therapy and get her left shoulder strong enough before her right shoulder replacement surgery January 31st, 2011.
With the therapy from Coury and Buehler, Didi is very confident she will be able to compete at the Del Mar Racetrack this upcoming April, 2010. "A positive attitude is necessary as well as setting goals," Didi admitted. She said she will be thrilled even if she can get on her horse and compete at half her normal speed.
"Thanks to an excellent surgeon, a wonderful physical therapy team, and a positive attitude, I'm now on my way to recovery."
Good luck Didi!