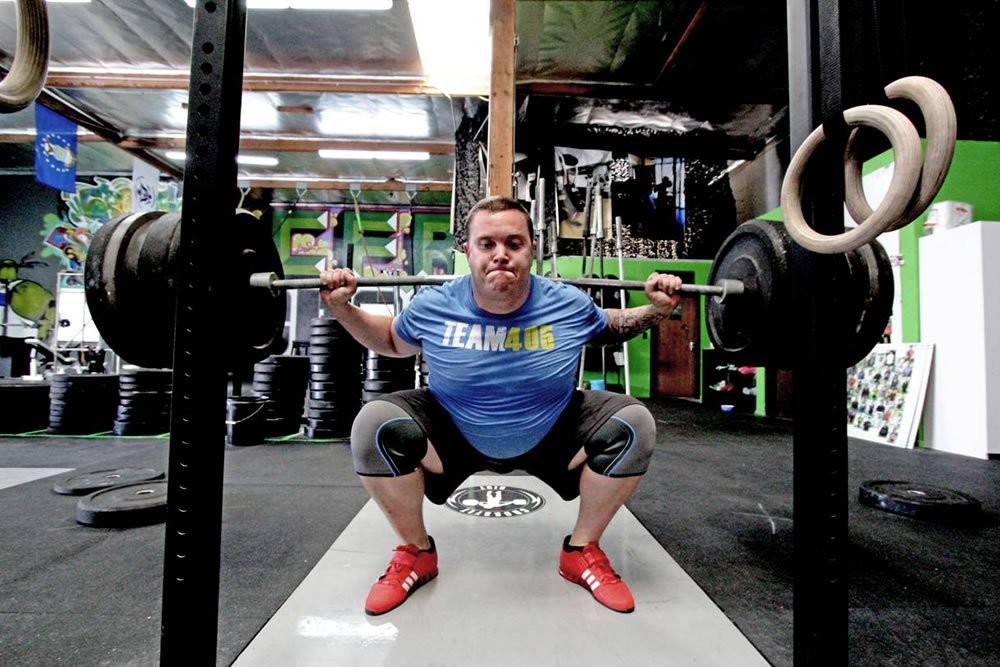 "I feel great, I'm fixed and PAIN FREE! I've never been stronger than I am today!"
– Derek Fay
When you watch 28 year old Derek Fay power lift 600lbs it is hard to believe that nearly five years ago his referring physician told him that he would never be able to lift weights again.
Derek Fay has always led an active life style. He played baseball for 15 years all the way through High School, as well as hockey on and off for another 5 years. He also enjoyed playing golf, snowboarding, and surfing anytime he got the chance. After High School, Derek was introduced to weight lifting. With no education about weight lifting or any proper techniques, Derek's motto was "the more the better."
Derek's self-training came to a complete halt when after lifting more than he could handle, his body decided it couldn't take the pressure any longer. Derek developed severe back pain that left him unable to bend over to tie his shoes or pick anything up from below the waist line. "The worst part of my injury was the pain," said Derek, "I never got a good night's sleep because I would wake up to change positions all night. Bending over would make me dizzy and any exercise or extended time on my feet would make my feet go numb."
Even with such agonizing pain, Derek waited about 6 months before even consulting his doctor. "I didn't want to hear bad news," said Derek, "I thought my body would recover if I just "rested" it…big mistake!"
Derek was diagnosed with herniated discs in his Lumbar Spine. Being so young and fit, Derek never imagined he would have found himself in this position. "I was in my early 20's and felt pretty injury proof up until then, so it didn't register what had happened," said Derek.
Upon arriving at CBPT, Derek received his initial evaluation and treatment from Brea Clinical Director, Angelo Urquico, PT, DPT, OCS. "It's embarrassing to get injured doing something you think you're good at," said Derek, "But Angelo put me at ease and made me feel welcome." With Angelo's help Derek soon became a believer in physical therapy. "I didn't feel like I needed help, but I did, and Angelo made me understand that."
Working out three times a week in a PT clinic is not the type of workout scene Derek was used to. His new routine consisted of strength and core exercises, performing different stretches and movements, and most importantly, education. "Coury & Buehler Physical Therapy taught me the importance of midline stability and how to engage your "core" to perform movements," said Derek, "They taught me why my injury happened and how I can prevent it from happening in the future."
Just after the first couple of weeks, Derek began to notice a difference in his range of motion. A couple weeks after that improvement, he noticed his back wasn't hurting on long drives anymore. Soon after that Derek began sleeping better. "Angelo taught me the correct way to move and a couple dozen mobility and stretching drills that I now use on my own athletes," said Derek.
After working with Angelo, Derek can finally say that he "feels great, I'm fixed and PAIN FREE! I've never been stronger than I am today!"
Now, Derek is happy, healthy and most importantly, PAIN FREE! Derek is now a trained strength and conditioning coach and helps athletes from all walks of life get in the best shape of their lives. He is a CrossFit Affiliate owner in Brea, CA and his gym is called CrossFit Riot. For more information about CrossFit Riot or about Derek, you can visit his website at https://crossfitriot.com/
Derek is back to doing all the activities he loved before he was injured and even picked up a few new hobbies such as gymnastics, cycling, and hiking.
Thank you Derek for the opportunity to help you enjoy your life PAIN FREE! We are so happy and proud of all of your accomplishments. Take care of yourself and good luck with CrossFit Riot!