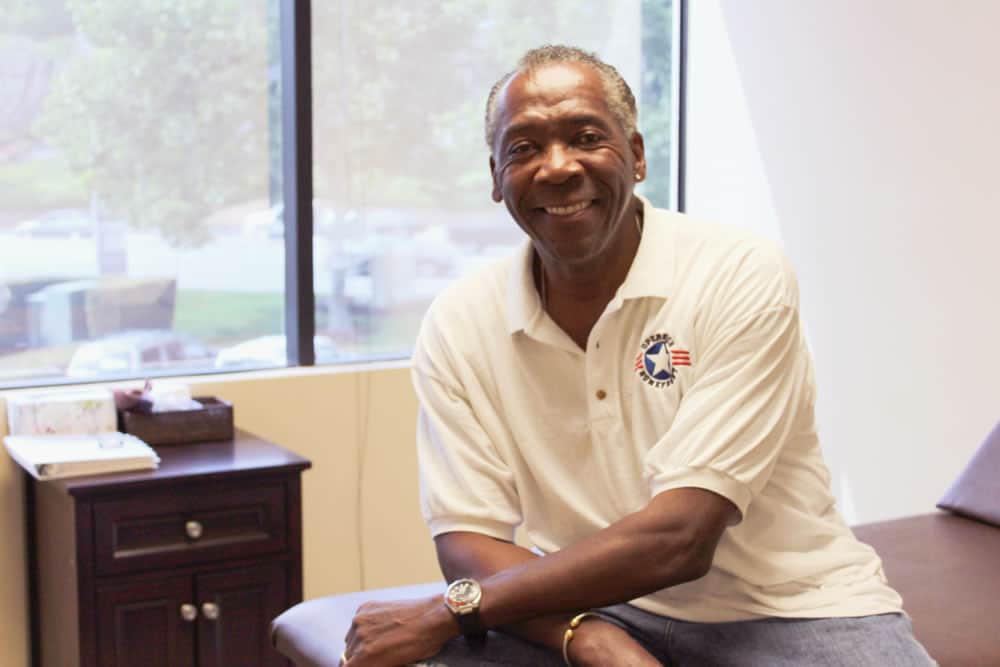 "I walked into this office with a walker, and now I am walker free and am back to being 100%, thanks to Coury and Buehler and their staff."
– Cephus Weatherspoon
CEPHUS WEATHERSPOON
It's rare when CBPT gets the chance to meet and rehabilitate a professional athlete. That's why when Cephus Weatherspoon walked through our doors; we were very excited to be able to create a friendship with such a renowned NFL athlete. Although his pain was debilitating, he still held a positive and optimistic attitude about his treatment, so much that he motivated everyone in the clinic, which improved the morale and helped others strive to get better.
Cephus Witherspoon is a semi-retired professional athlete who graduated from Fort Lewis College in 1972 with a rare three-sport letter winning. He received letters in basketball and two each in football and track and field. In 1972, Cephus was drafted by the New Orleans Saints and played for them from 1972-1974 as a wide receiver and return specialist. From 1974-1975 Cephus played for the Denver Broncos and by 1995 was inducted into the World Football League hall of Fame for being one of the finest all-around athletes in Fort Lewis College history.
Cephus enjoys living an active lifestyle outside of work. Some of his hobbies include attending football camps, bowling, running, and especially playing golf. Due to playing sports and being so active his whole life, Cephus developed severe osteoarthritis of the left knee. His physician Dr. Daniel Stein diagnosed his knee and determined Cephus had to get a total knee replacement. "It was depressing thinking that you can't do the things you used to," says Cephus.
Having played professional sports, Cephus is used to receiving the best treatments and therapy when it comes to injuries. His expectations were very high when searching for the right physical therapy clinic for him. Fortunately, Cephus found us on the web and researched our website cbphysicaltherapy.com and was relieved to see all the same methods of treatment he had received previously. "I wanted a facility that was the best," said Cephus. "I did check out other clinics and thought yours was the best!"
Cephus had his initial evaluation with our Brea Clinical Director, Angelo Urquico, PT, DPT, OCS, CSCS and was immediately impressed by the care he received. "Angelo made me feel very comfortable and he knew what he was talking about." Since Cephus was recovering from a total knee replacement, Angelo knew that his main focus was hands on therapy to get Cephus's range of motion back. "His knee was very stiff when I initially evaluated him," said Angelo, "But I knew we could get him back to playing golf since he had a positive attitude about therapy and he was very committed to the program I put together for him."
The exercises Angelo gave Cephus really tested his knee flexibility and strength. The exercises focused on helping his legs become more flexible and make his quadriceps stronger, and after a remarkable three weeks, Cephus began to feel the results. Not only was his knee feeling better, but the swelling from the surgery had also decreased. "I am very honored and pleased that Coury and Buehler got me back to how I was before!"
Cephus is now two months post surgery on his total knee replacement and is feeling great! "I walked into this office with a walker, and now I am walker free and am back to being 100%, thanks to Coury and Buehler and their staff."
We're so honored to have met such a wonderful man like Cephus. His positive energy always brightened the room and he could always put a smile on our faces with his down to earth personality. Thank you Cephus for giving us the chance to help get you back to living life pain free!