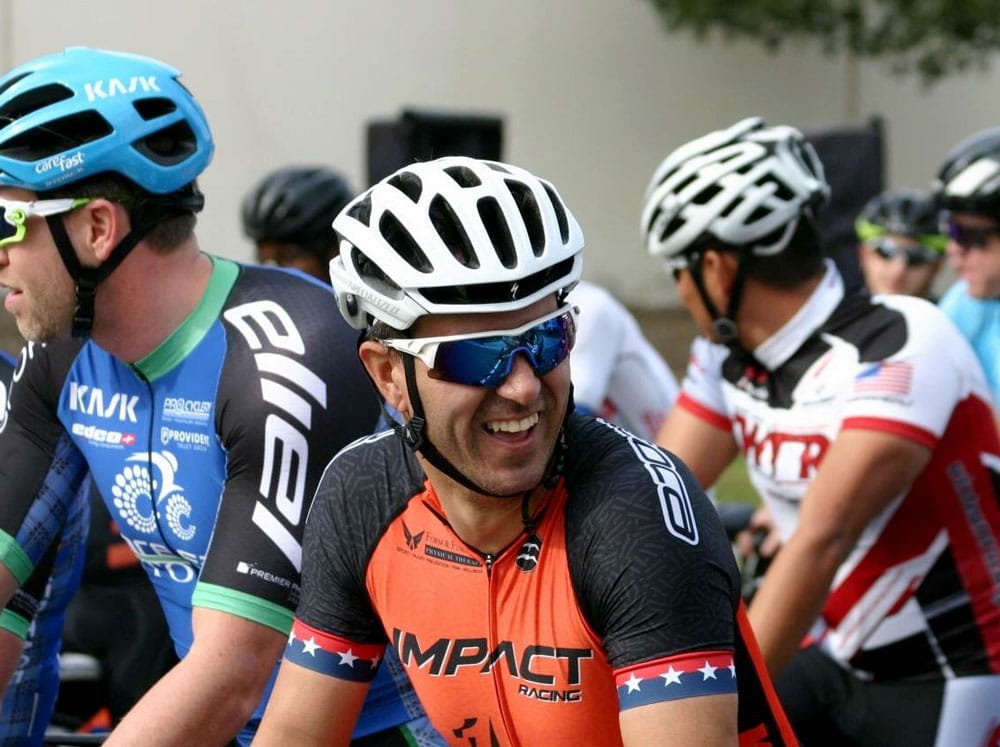 "Physical therapy at Coury and Buehler impacted my life in such a positive way. It has given me the confidence to do the things that I used to do before my injury."
– Bryan Wierzchucki
BRYAN WIERZCHUCKI
As an amateur bike racer in Southern California, I spend many weekends from January to July racing my bike. Earlier this year, I crashed my bike sprinting for the win in Dana Point. The results of my bike crash were two fractured vertebrae in my neck (C6 and C7). As a result of the fractures, I had a cervical fusion and started my recovery process almost immediately.
The reason I went to Coury and Buehler was because my best friend of over 20 years, David Hirchman PT, MPT, was the clinical director at the Irvine location. I first went and saw David three weeks post-operation.
I knew physical therapy was going to help me get my range of motion back. I had heard many success stories from other friends who had been to Coury and Buehler Physical Therapy and I knew I could find the same results.
When you go through a traumatic experience, it is always important to have a support network. Having David as part of my support network as well as my physical therapist was the best of both worlds. He is someone I feel comfortable with, he is someone I trust, and he is somebody I will actually listen to. You never want to disappoint your family and friends and to have David as my physical therapist really helped me be accountable for my own healing.
After six weeks and 12 therapy sessions, my range of motion dramatically improved from where it was before I started. My comfort level of doing basic daily tasks such as driving, playing with my kids, and even riding my bike again became easier as a result of physical therapy. Before the injury I was riding my bike 6 to 7 days a week around 175 to 200 miles a week. As a result of physical therapy, I'm slowly building my way back up to normal. I am currently riding 5 to 6 days a week, and around 125 to 150 miles a week.
Physical therapy at Coury and Buehler Physical Therapy has impacted my life in such a positive way. It has given me the confidence to do the things that I used to do before my injury. Going to PT has also allowed me to continue to do something that I love – riding and racing my bicycle.