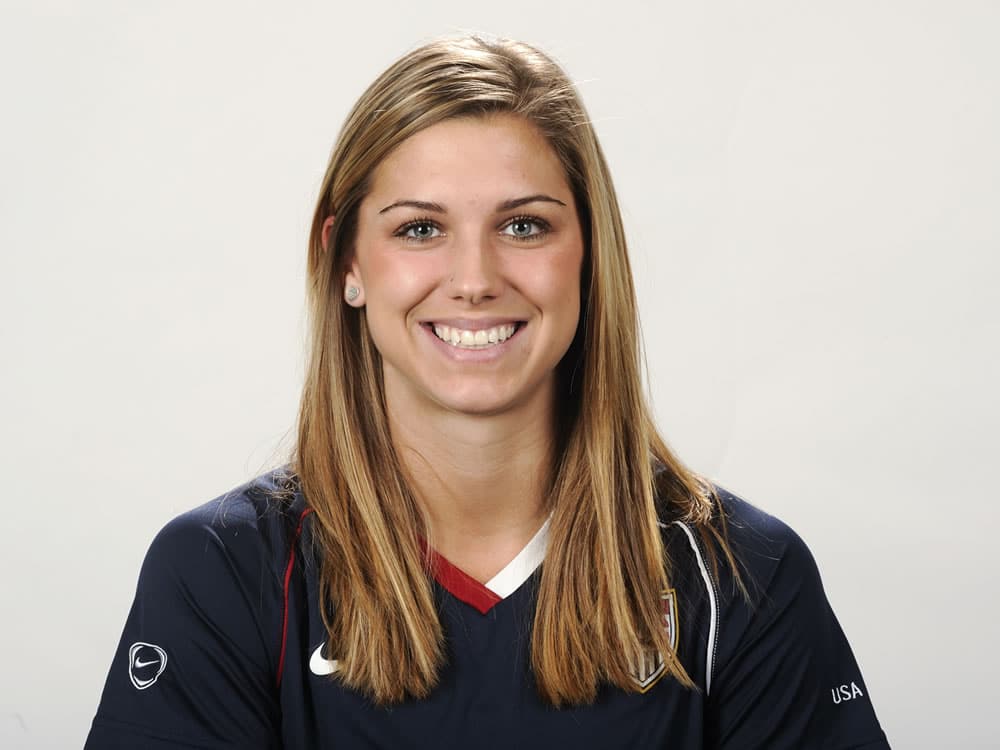 "Brandon really helped me get stronger and more stable with my knee. My knee feels stronger and more stable than ever before!"
– Alex Morgan
Alex Morgan was born in Diamond Bar, California where she attended Diamond Bar High School. After graduating from Diamond Bar, Morgan took her career up North to the University of California, Berkeley, where as a freshman she was the leading scorer for the Golden Bears with eight goals in 2007.
Morgan continued to lead the Golden Bears' scoring during her sophomore season with nine goals in 2008, despite being out for part of the season due to national team commitments. Morgan is third all time in goals scored (45) for the Golden Bears.
Due to an anterior cruciate ligament injury that slowed her progress in 2007, Morgan was not called up to train with the United States under-20 women's national soccer team until April 2008. Morgan was devastated at the thought of not being called to play and knew she had to do everything she could to get better quick. Immediately, Morgan thought of Coury and Buehler Physical Therapy because we had helped her in the past with previous knee and ankle injuries. She knew that CBPT would get her back to playing soccer quicker than any other trainer or physical therapy facility could.
Morgan came to Coury and Buehler Physical Therapy to help rehabilitate her knee and was evaluated by Brandon J. Buehler, PT, DPT, OCS. Brandon understood the limited time Morgan had to recover and he knew how important making the U-20 team meant to Morgan. Brandon created a very rigorous and precise treatment program designed just for Morgan's needs. The program taught her how to move and understand the mechanics of her body. "Brandon really helped me get stronger and more stable with my knee. My knee feels stronger and more stable than ever before!" said Morgan.
With the help of Coury & Buehler Physical Therapy, Morgan was able to return to the US under-20 national team to make her first appearance in Puebla, Mexico, where she scored her first international goal against Cuba.
Morgan was named to the United States U-20 women's national team that competed in the 2008 FIFA U-20 Women's World Cup in Chile, scoring a total of four goals in the tournament against France, Argentina and North Korea; her last goal scored against North Korea was subsequently voted the best goal of the tournament, and later FIFA's second-best goal of the year. Morgan's performance on the field earned her the Bronze Shoe as the tournament's third-highest scorer and the Silver Ball as the tournament's second-best player behind teammate Sydney Leroux.
On January 14, 2011, Alex was drafted the #1 overall pick in the 2011 WPS Draft by the Western New York Flash. She was the first California Golden Bears Women's Soccer Player to be drafted in the first round of Women's Professional Soccer.
Last summer Alex was the youngest player named to the United States World Cup roster. On July 13, 2011, she captivated the hearts of viewers worldwide when scored her first FIFA Women's World Cup goal in the 82nd minute of the semi-final matchup against France giving the USA a 3-1 lead and ultimately, the victory! Alex also went on to score the first goal (69′) in the FIFA World Cup Final against Japan after coming in as a substitute at the half, as well as assisting the Abby Wambach header (104′) for a goal in extra time.
Alex's rise has been fueled by her natural ability and unyielding determination, driven by a ruthless competitive nature. We are proud of her and the 2012 USA Women's Soccer Team in their gold medal at the Olympics!
Most recently, Alex and the US Women's National Soccer team placed 1st at the 2015 FIFA Women's World Cup! Congrats to Alex & the team!
Source: www.alexmorgansoccer.com