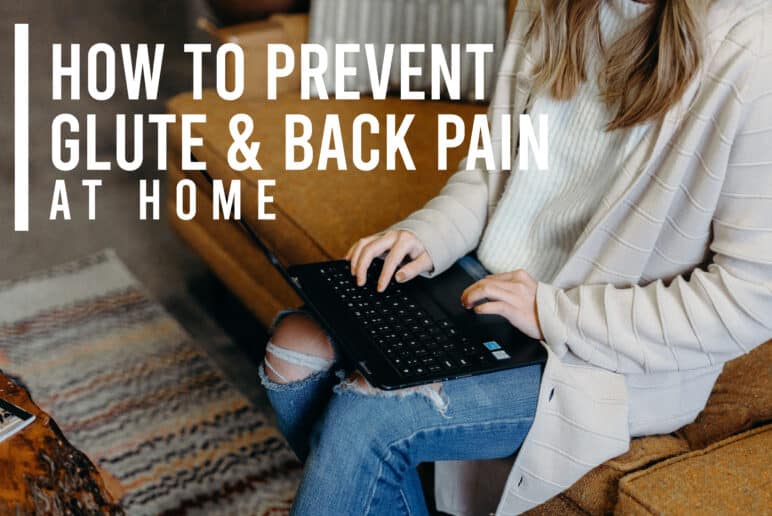 How to Prevent Glute & Back Pain at Home
January 28, 2021
As our routines have changed, our bodies are thrown for a loop! We may be used to walking more throughout the day; whether it is to the water cooler, the copier, the bathroom or just different parts around the office. Now that we are stuck at home, we are less active, because that couch and chair is just so comfy! Now our bodies are starting to rebel against it. The muscles crave and love movement, any kind. It does not have to be strenuous, but we were made to move!
We have adjusted to sitting at home whether it is on a nice comfy couch or not so comfy office/kitchen chair. Physical therapists have seen of trend of more back pain since the pandemic has started. Not to fret! This is completely treatable and even preventable! Physical therapists are movement experts and are even trained on proper posture for how to set up your home to avoid these new aches and pains! (See "How to Personalize Your Ergonomic Work or School Set Up at Home" for specific tips!) Especially in the back and butt!
First and foremost, do your best to get up at least once an hour (if you can!). A simple walk around the house (inside or out) can get the blood flowing and the muscles pumping! It has also been shown that movement can increase energy levels and improve concentration! Perfect for those long days on the computer. Incorporate these few exercises throughout the day to keep our muscles limber!
Thoracic Extension/Rotation
Our upper body can get stiff from sitting at our desk and leaning forward to type or read the screen. This simple stretch you can do throughout the day while you are sitting!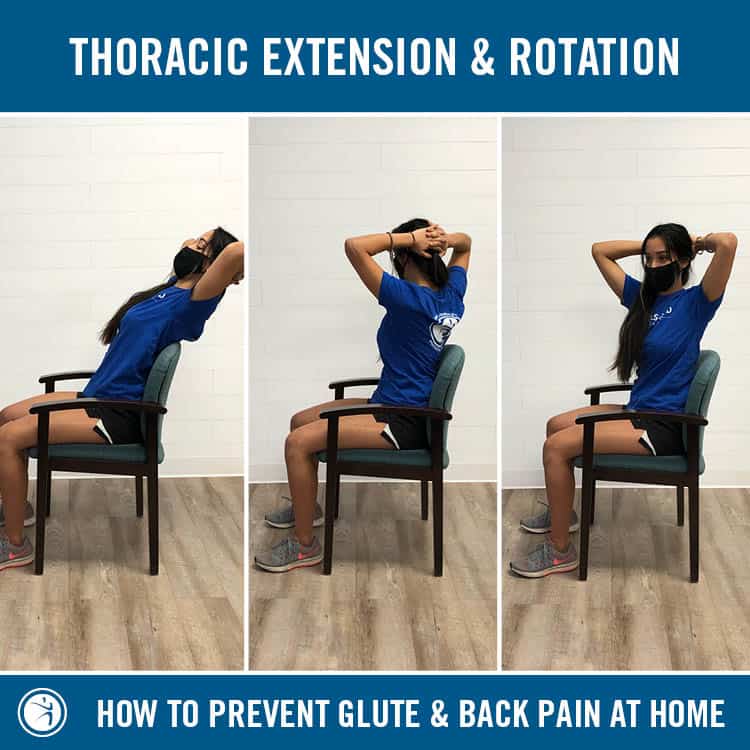 Place your hands behind your head (as pictured) and gently push your upper back against or over the back of the chair.
Feel a nice stretch along the top part of your back. Breathe slowly and allow your body to relax into the stretch.
Then come back up and slow twist to the right and left.
Remember to breath slowly and deep to continue feeling that stretch across your back.
Piriformis Stretch
This muscle is especially important as it runs across the sciatic nerve in the glute area where we are sitting all day. This muscle also helps to turn our hip which is important for daily activities such as stairs or bending down to pick up the laundry basket. Keeping the piriformis limber and stretched will help prevent hip and back pain!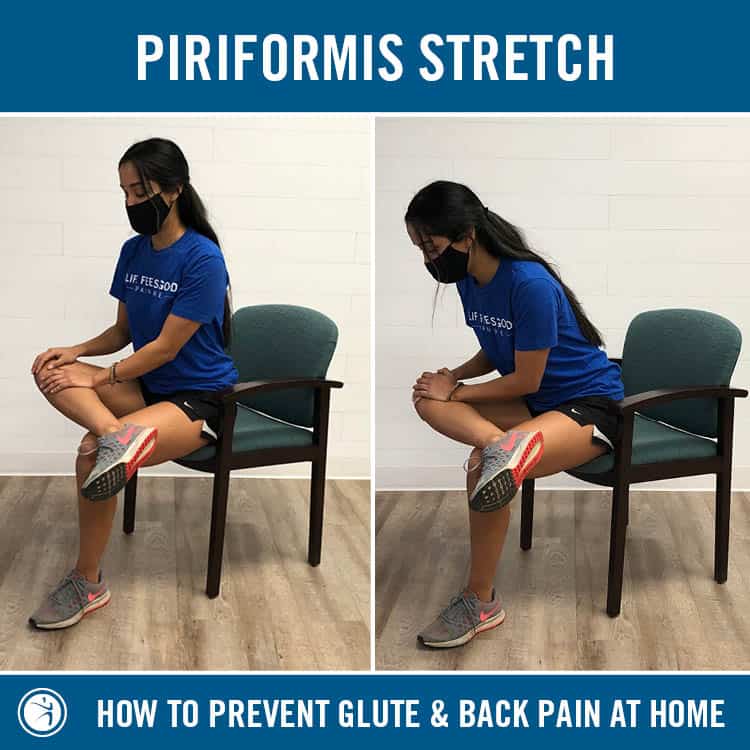 Try this sitting. If you are able, cross one leg across your other knee.
If you are not this flexible (which is ok!) you can just rest your ankle on your shin.
Gently lean forward and apply a small outward pressure on your crossed knee towards to floor. You should feel the tension/stretch in the outer hip that is crossed over.
Breathe deeply into the stretch but do not push so much that you feel like your eyes want to water.
Hold for 30 seconds to 1 minute. Repeat on both sides.
Squats
Who doesn't love squats? This is not only a leg exercise but a full body one! It is important that we keep our core muscles tight has we squat down.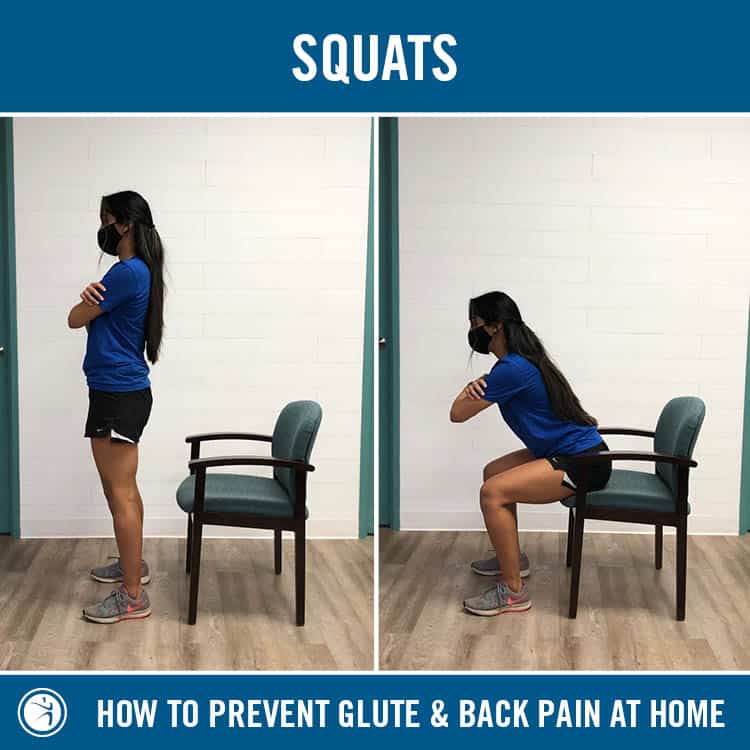 Start simple. Just stand up and sit down from your chair (if it is on wheels, try a non wheely chair!). Do your best to not utilize your hands for extra support or push.
When you stand, push through the heels and squeeze those glute muscles to push your body to an upright position.
Feel free to do a set of 10 throughout the day to get the blood and muscles pumping!
Do you have glute and back pain while working from home? Physical therapists at Coury and Buehler Physical Therapy are here to help! Call us now at 714-256-5074 or set up a free consultation below to see how we can help!
If you are experiencing any glute pain or back pain, contact us at 714-256-5074 to take advantage of our free consultations or fill out the form below! A representative will contact you shortly.
Reader Interactions