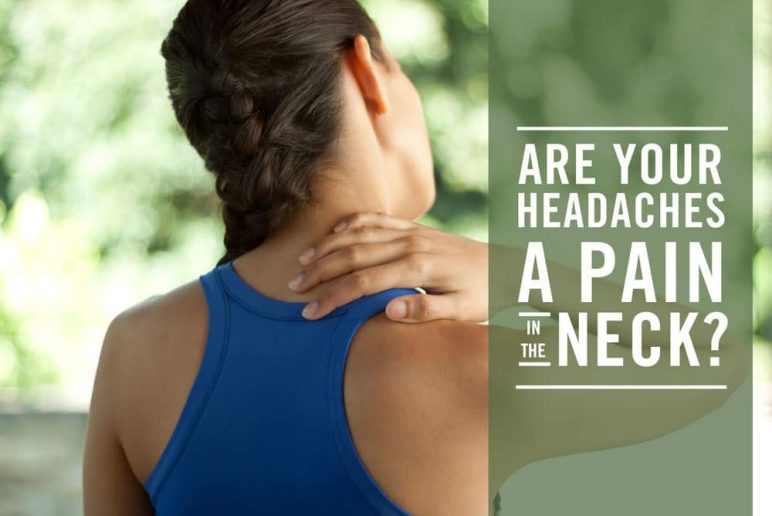 Are Your Headaches a Pain in the Neck?
November 12, 2014
In yesterday's blog, we talked about the common forms of headaches. Today, we'll be specifically addressing cervicogenic headaches.
What is a cervicogenic headache?
A cervicogenic headache like the names implies is simply a headache that originates from the neck. This is one of the most common types of headache out there and is often misdiagnosed as a migraine. It primarily causes pain on one side but in more severe cases can be on both sides.
What causes these headaches?
Cervicogenic headache are typically from activities that place excessive stress on the upper joints of the neck but can also be caused from trauma such as whiplash from a car accident. Other examples of excessive stress are repetitive or prolonged activities such as slouching, poor posture, lifting or carrying while in poor posture, excessive bending or twisting of the neck, working at a computer or activities using the arms in front of the body such as household chores.
The excessive stress that occurs from these poor positions and postures can cause damage to the upper 3 vertebrae, nerves, muscles, and ligaments of the neck.
The pain associated with this condition is an example of referred pain, which is pain arising from an area away from the problem area. This occurs because the nerves that supply the upper neck also supply the skin overlying the head, forehead, jaw line, back of the eyes and ears. As a result, pain arising from structures of the upper neck may refer pain to any of these regions causing a cervicogenic headache.
What can I do to fix my headache?
Most patients with this condition heal quickly and have a full recovery with appropriate physical therapy treatment. In the meantime you can focus on some simple exercises for your neck as shown below. In addition having a proper ergonomic set up at work or while on your computer will be crucial to maintain your improvements.
Chin Tucks
While maintaining good posture proceed to tuck your chin in with intention to make a "double chin". Perform these throughout the day at least 10 times each set.

Lateral Neck Stretch
Bend your head to one side until a stretch is felt on the opposite side. You can use your hand to assist in the stretch. Perform these throughout the day on both sides holding from 30-60 seconds for each stretch.
Scap Squeezes
Squeeze your shoulder blades together while maintaining good posture. A stretch in your chest should be felt along with a strong squeeze between your shoulder blades. Perform throughout the day at least 10 times each set.
Free Assessments
Do you have cervicogenic headaches? Schedule a FREE assessment to see how physical therapy can help you be free from pain:
Reader Interactions